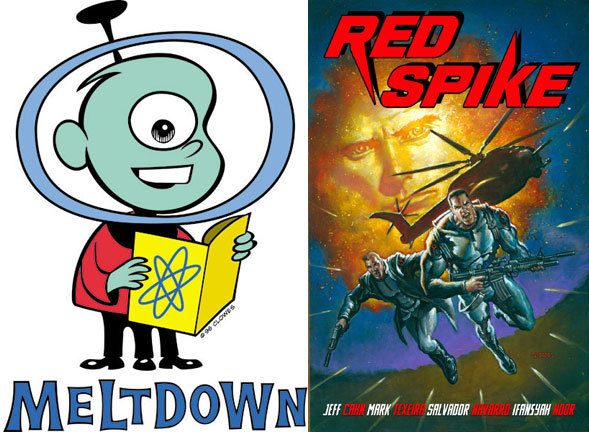 Press Release:
On January 11th, starting at 6:00 P.M., Meltdown Comics will present an autograph signing with Jeff Cahn for the release of RED SPIKE VOL1 TP, produced by Benaroya Publishing and published by Image Comics.
 
RED SPIKE VOL1 TP, which collects issues #1-5 of the sold out miniseries, involves soldiers Matt Cutler and Greg Dane, the first to survive the Project Red Spike program. They have been proven on the field to be everything that was wanting in the program. Unfortunately, an upgrade to Greg's implant goes array and now it's up to Matt to chase down his friend before he hurts himself, the city and the tax payers who funded their creation. But as the friends begin their very public battle in heart of Washington D.C., twisted and sinister secrets begin to emerge from within the Red Spike program. Can both soldiers survive or are their deaths a necessary measure to secure the program's secrecy?
 
The RED SPIKE autograph event will take place in Los Angeles at Meltdown Comics on January 11th from 6-8 P.M. at 7522 Sunset Blvd., Los Angeles, CA 90046. For more information, please call (323) 851-7223.
About Meltdown Comics
At 9000 square feet, Meltdown is the largest pop culture emporium west of the Rockies. It's ever-shifting stock holds new discoveries for even the most discerning reader and if you are new to the game the dimmest ember of obsession shall be fanned into a great bonfire here. Meltdown's proprietors have seized every opportunity to upgrade service within the store resulting in unparalleled relationships with vendor and consumer alike. This means that as a customer of Meltdown, you have access to a worldwide network of purveyors of pop and if you don't see what you want in front of you Meltdown can procure it almost instantaneously.
 
About Jeff Cahn
After graduating from Pomona College, Jeff Cahn returned to his hometown of New Orleans, where he interned on the set of The Curious Case of Benjamin Button for Digital Domain's Oscar winning visual effects team. Once the shoot wrapped, he returned to Los Angeles and now works at Benaroya Pictures and Publishing as a story developer and writer of both screen and comics. 
 
About Benaroya Publishing
Founded by Michael Benaroya in 2009, Benaroya Publishing is a comic book and graphic novel production company dedicated to thrilling and compelling storytelling. A subsidiary of Benaroya Pictures, Benaroya Publishing is based in Los Angeles and launches their debut titles this Spring under the Image Comics label. With David Elliott (FALL OUT TOY WORKS and co-founder of RADICAL PUBLISHING) at the helm as in-house Editor-in-Chief, Benaroya Publishing promises to bring fresh new ideas, and uniquely told stories to the comics literary world. For more information, visit www.benaroyapublishing.com.