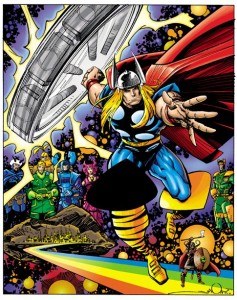 Walter Simonson, Louise Simonson, Bob Wiacek, Chris Sotomayor, John Workman, and Danny Fingeroth appear at the Society of Illustrators on Saturday, January 28th, 2012.
Press Release:
Comic books (and their cousins, graphic novels) are something we're all familiar with from childhood on. But if you're not involved in making them, how they come to be can seem a little mysterious and intimidating. Now, the curtain is pulled back as comics editor and writer DANNY FINGEROTH, in collaboration with THE SOCIETY OF ILLUSTRATORS presents:
COMICS OUT LOUD
In a manner similar to the Society's acclaimed ART OUT LOUD events, COMICS OUT LOUD will feature top comic book creators—one from each discipline of the medium—demonstrating and discussing their work processes as attendees circulate around the room and watch the process of "sequential art" (as the great Will Eisner dubbed it) being made.
You'll get to watch writer LOUISE SIMONSON, penciler WALT SIMONSON, inker BOB WIACEK, colorist CHRIS SOTOMAYOR, and letterer JOHN WORKMAN as they ply their crafts. Each creator will be working on a current assignment, so that attendees will get a sense of how team-created comics come to be. Event organizer, and longtime comics editor, DANNY FINGEROTH, will be on hand to discuss and demonstrate the role of the editor in the comic book making process.
COMICS OUT LOUD will be a rare opportunity to see top creators doing—and speaking about—their work. You will have the chance to find out everything you always wanted to know about making comics, but were afraid—or didn't even know—to ask!
Tickets
$50 non-members, $40 members, $20 students
Food will be available for an additional $5.
Purchase tickets here!
ABOUT THE CREATORS:
LOUISE SIMONSON [writer] has written and edited comic books for many years, including those in the superhero, science fiction, horror, and fantasy genres. Her Marvel work includes the award-winning Power Pack; best selling X-Factor and New Mutants; Wolverine: Meltdown, co-written with her husband, Walter ; and Web of Spider-Man. Her DC Comics work includes Superman: Man of Steel, featuring the Death and Return of Superman storylines; Steel; and World of Warcraft. She has also written 23 books for kids and adults. She is currently writing a Young Adult dark urban fantasy novel and a Rocketeer story for IDW.
WALT SIMONSON [penciler] is a triple-threat talent, lauded for his work as writer, penciler, and inker. His first professional artwork appeared in 1973 in DC's Weird War Tales. He gained prominence with his collaboration with Archie Goodwin on the Manhunter feature, and from there went on to many triumphs, including landmark runs on The Mighty Thor, The Fantastic Four (both of which he wrote, penciled and inked), and Michael Moorcock's Elric.
BOB WIACEK [inker], one of the industry's top embellishers, has inked over such pencilers as Carmine Infantino on Star Wars, John Romita Jr. on The Uncanny X-Men, June Brigman on Power Pack, John Byrne on Sensational She-Hulk, Walter Simonson on X-Factor, and George Pérez on The Brave and the Bold, volume 2.
CHRIS SOTOMAYOR [colorist] has the reputation of being one of the best—and fastest—color artists in the comics business, and has been a mainstay at Marvel Comics since 1996. He's proven himself time and again, having worked on their top properties, including Spider-Man, X-Men, Daredevil, Captain America, Hulk, and many others, as well as working on titles for DC, Image and Humanoids.
JOHN WORKMAN [letterer] was born in the mid-twentieth century. He discovered comics at an early age and was struck by the uniqueness of the medium. His plans to be a lawyer flew out the window, and he began to experiment with all the elements that make up the creation of comics stories. His favorite time spent in comics over the last 44 years was the period (1977-1984) during which he was the Art Director for Heavy Metal magazine. He edited, wrote, penciled, inked, colored, lettered, and handled production on thousands of comics pages, all the time attempting to boost sales of the publication and to present comics material to a large worldwide audience. In the years since the HM days, he has become known primarily for his lettering, though he continues to do everything else that it takes to come up with a comics story.
DANNY FINGEROTH [curator] is Sr. VP of Education at SoHo's Museum of Comic and Cartoon Art (MoCCA), where he co-curated exhibitions of the work of Al Jaffee and Will Eisner. He was Group Editor of Marvel's Spider-Man line and has written many comics featuring Spider-Man and other icons. He is co-author of How to Create Comics from Script to Print; author of Superman on the Couch: What Superheroes Really Tell Us About Ourselves and Our Society; and co-editor of the recent The Stan Lee Universe, a compendium of rarities from and about the co-creator of Spider-Man, the X-Men, and so many others, published by TwoMorrows.
Society of Illustrators
128 East 63rd Street, New York, NY 10065