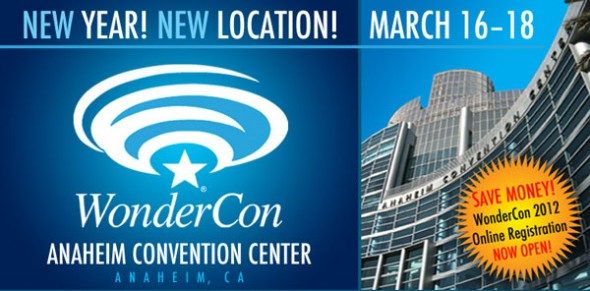 Press Release:
WonderCon Registration To Open December 2
New City, New Convention Facility and Impressive List of Special Guests Mark Event
ANAHEIM, Calif., Dec. 2, 2011 — WonderCon, part of the Comic-Con International (CCI) family of nonprofit comics conventions, today announced the opening of attendee registration for the increasingly popular comic book and pop culture convention. Attendees can register online at http://www.comic-con.org/wc/wc_reg.shtml.
WonderCon is a three-day event that has continued to grow in size and stature throughout its 25-year history. Because of renovations at its usual venue in San Francisco, WonderCon will be held in Anaheim for the first time, at the beautiful AnaheimConvention Center March 16-18, 2012. Featuring a large exhibit hall and programs and panels on all aspects of comics and popular art, WonderCon in Anaheim promises to be a must-attend event on the comics convention circuit.
The format so closely resembles Comic-Con in San Diego that many are referring to the relocated show as Anaheim Comic-Con. "Moving the convention was not something we wanted to do, and to be honest we were a bit concerned," said David Glanzer, director of marketing and public relations for parent company Comic-Con International. "However, exhibitor interest has been so overwhelming, as has interest in programming, that we are convinced WonderCon 2012 will be among the best yet."
Registration prices are as follows:
                                    3-DAY BADGE (Best Value!):
Adult 3-Day: $40.00 Advance/$50.00 Onsite
Junior/Senior 3-Day: $20.00 Advance/$25.00 Onsite
                                    1-DAY BADGE: 
                                    Friday OR Saturday Only:
Adult 1-Day: $20.00 Advance/$25.00 Onsite
Junior/Senior 1-Day: $10.00 Advance/$13.00 Onsite
                                    Sunday:
Adult: $10.00 Advance/$15.00 Onsite
Junior/Senior: $5.00 Advance/$7.00 Onsite
WonderCon's special guests include Sergio Aragones (cartoonist, Groo, MAD, Sergio Aragones Funnies), Mark Evanier(writer/comics historian, Kirby: King of Comics), Matt Fraction (writer, Invincible Iron Man, Casanova, Fear Itself, Mighty Thor), Michael Golden (artist, The 'Nam, Micronauts, Bucky O'Hare), Mike Mignola (writer/artist/creator, Hellboy, B.P.R.D.), Steve Niles (writer/creator, 30 Days of Night, Criminal Macabre, Mystery Society), Eric Powell (writer/artist/creator, The Goon), Bob Schreck(editor-in-chief, Legendary Comics), Fiona Staples (artist, Mystery Society, SAGA), and J. Michael Straczynski (writer, Superman: Earth One). Information and biographies for these guests can be found on www.comic-con.org/wc/wc_guests.php. More guests will be announced soon.
WonderCon offers the best in comics programming, Hollywood and television panels, a huge exhibit hall, anime, games, portfolio review, autographs, and a masquerade all in one location. Now in its largest venue, WonderCon promises to be a show to remember for fans of any age.
About WonderCon:
WonderCon, one of the country's best comics and popular arts conventions, is part of Comic-Con International (CCI), a nonprofit educational organization dedicated to creating awareness of, and appreciation for, comics and related popular art forms. The organization achieves its mission primarily through the presentation of conventions and events that celebrate the historic and ongoing contribution of comics to art and culture. In addition to WonderCon, CCI organizes San Diego Comic-Con each summer (the world's largest comics convention of its kind) and San Francisco's Alternative Press Expo (APE) each fall. On the web: WonderCon.org, Facebook.com/comiccon, Twitter.com/wondercon.