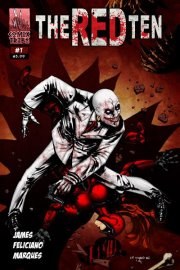 Tyler James and Cesar Feliciano sign this Saturday November 26, 2011 from Noon to 2pm!
 
THE RED TEN is a superhero re-imagining of Agatha Christie's classic novel "And Then There Were None" written by local creator Tyler James.
When the world's greatest detective is violently murdered by her nemesis, the world's foremost super team and her former sidekick band together to bring the villain to justice. However, the mission goes terribly wrong, and before the night is out each of the ten "heroes" will pay dearly for past transgressions.
THE RED TEN is an independent, creator owned ten issue maxi-series by Tyler James (writer) and Cesar Feliciano (artist), with color by Miguel Marques, and featuring stunning covers by Charles Paul Wilson, III (Stuff of Legend).
Friendly Neighborhood Comics
191 Mechanic Street (Route 140), Bellingham, MA