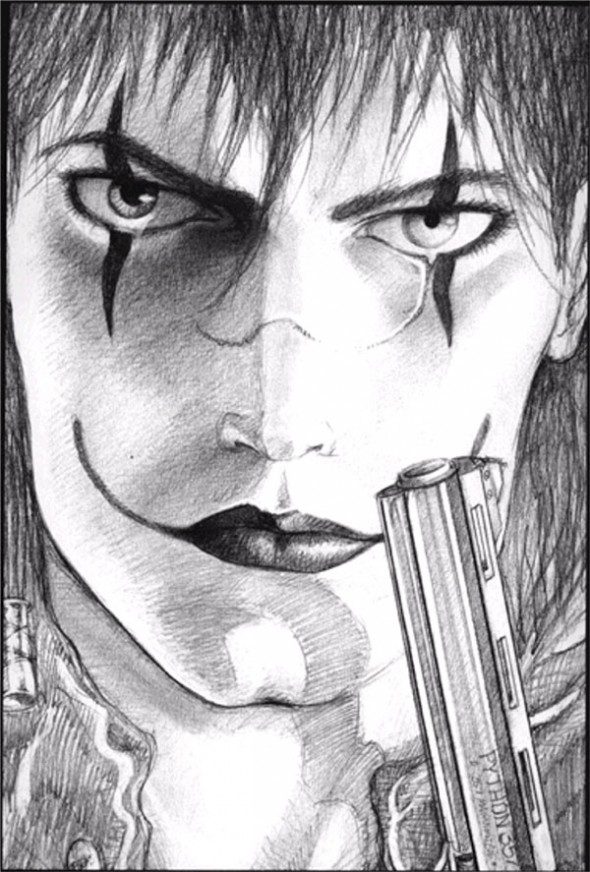 Press Release:
The Steel City Con is very proud to announce that the following guests will be appearing at the upcoming Steel City Con. This is a rare opportunity for you to meet American Icons!
MAJOR ANNOUNCEMENT!
The Steel City Con is proud to announce that James O'Barr will be attending the upcoming show. Many of you know that James is the creator of THE CROW!
He is the Writer & Artist of the comic series on which four movies, several comics, a television show, and several novels were later based. Don't miss this very rare appearance!
CELEBRITY GUEST LIST:
HENRY WINKLER – The Steel City Con is VERY pleased to announce that HENRY WINKLER will be attending the December Show! Mr. Winkler is a very accomplished Author, Actor & Director. He has acted on many TV programs as well as many major hit films. Many of you know him as "THE FONZ" from HAPPY DAYS! Mr. Winkler has also appeared in many classic films such as Wes Craven's SCREAM (1996), Adam Sandler's THE WATERBOY, LITTLE NICKY and CLICK. He currently stars i the TV series ROYAL PAINS.
Mr. Winkler will be signing on ALL 3 DAYS of the show!
Friday 4-8pm
Saturday 10am-6pm
Sunday 11am – 2pm
SPECIAL SIGNING PRICE: STEEL CITY CON EXCLUSIVE
Steel City Con Special price of ONLY $25. ( Many were expecting $40 – $60 )
Pre-purchase your 3 Day Pass online now so that you can meet Mr. Winkler before the general public gets in the show! (3 Day Pass holders get in 1/2 hour early on Sat & Sun)
Go To http://www.steelcitycon.com for all the details!
MARGOT KIDDER- Most of you know Margot from her role as "Lois Lane" of the SUPERMAN Films with Christopher Reeves. Margot also starred in The Amityville Horror. Don't miss this special signing appearance!
Special Note: Margot Kidder's Signing Appearance is being Sponsored by IN PERSON PRODUCTIONS. Visit their web site at http://www.inpersonpro.com/
LINDA BLAIR – This is an EXTREMELY RARE Signing Appearance and we encourage everyone to make plans now to attend the December Steel City Con! LINDA BLAIR is a GOLDEN GLOBE & PEOPLE'S CHOICE AWARD winner. She has also been nominated for an ACADEMY AWARD. Many of you know Linda Blair from her role in the horror film THE EXORCIST.
Special Note: Linda Blair's Signing Appearance is being Sponsored by The Art Institute of Pittsburgh. Visit their web site at http://www.artinstitutes.edu/pittsburgh/
DOUG JONES – Ready to meet THE SILVER SURFER? Doug Jones has appeared as The Silver Surfer in the recent file THE FANTASTIC FOUR: THE RISE OF THE SILVER SURFER.
Special Note: Mr. Jones signing appearance is being sponsored by the Comic Book Ink.
Visit their web site at http://www.thecomicbookink.com
ERIKA ELENIAK – Yes, that's right …. it's " Shauni McCain from the hit TV series BAYWATCH! Many of you also remember Erika as the high-school girlfriend of Jesse (John Stamos) in FULL HOUSE. Erika's film credits also include UNDER SIEGE, E.T., and THE BEVERLY HILLBILLIES.
BONNIE PIESSE – Australian actress and singer/songwriter. Star Wars fans will be happy to meet the "YOUNG AUNT BERU" from STAR WARS! In particular, she appeared in Star Wars Episode II: Attack OF THE CLONES and STAR WARS Episode iii: REVENGE OF THE SITH.
MARK DODSON – The voice for STAR WARS' "SALACIOUS CRUMB" / The Voice of STAR WARS' Ewok's / The Voice for many of your favorite GREMLINS. Mark has also been involved in DAY OF THE DEAD, WISHMAN and NATURAL BORN KILLERS.
"HACKSAW" JIM DUGGAN – Former WWE Wrestler. His best known character is that of an American patriot, which sees him use a 2×4 length of wood as a weapon, the battle cry "Hooo!" and the USA Cheer! During his time in WWE he was the oldest active wrestler after Ric Flair retired in 2008."Hacksaw" Jim Duggan is also the second inductee in the WWE HALL OF FAME Class of 2011.
Special note: "Hacksaw" Jim Duggan's appearance is being sponsored by COLLECTORS REALM
visit their web site at http://www.collectorsrealm.iwarp.com/
MARIA KANELLIS – Former WWE DIVA! Maria Kanellis is an actress, singer, TV hostess/personality, former WWE Diva and aspiring fashion designer. She is currently appearing on THE CELEBRITY APPRENTICE on NBC. She is releasing her first music album, a 4 song EP, on April 13th, 2010. She is most well-known as a former professional wrestler and personality within World Wrestling Entertainment (WWE) for the past 5 years !
For details go to http://www.steelcitycon.com