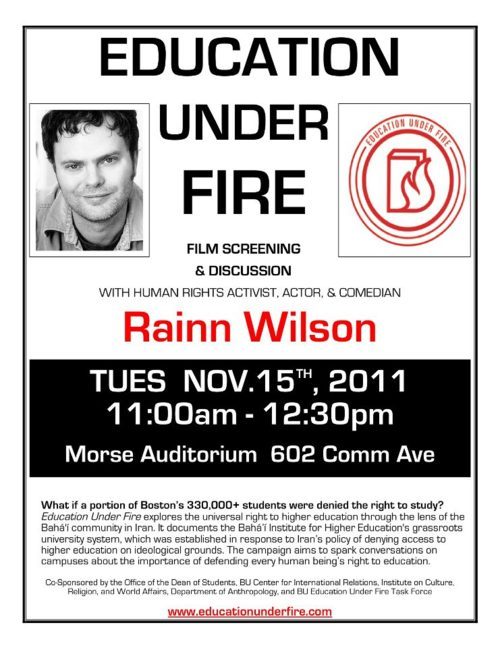 Rainn Wilson screens a documentary at Boston University on Tuesday November 15, 2011 at 11am.
Press Release:
BU Premiere Screening of "EDUCATION UNDER FIRE" hosted by actor and human rights advocate RAINN WILSON (of NBC's "The Office").
Free and open to the public. Seating is first come, first serve!
See the TRAILER: http://educationunderfire.com/the-documentary.php
…
The documentary is followed by a Q&A informed by the Open Letter by Nobel Peace Prize laureates Archbishop Desmond Tutu and President (of East Timor) José Ramos-Horta defending the right to education.
Whether or not you are able to attend, please consider signing the letter.
Education Under Fire (EUF) is a campaign developed to address the Iranian government's denial of the right to education on ideological and religious grounds. The 30-minute documentary explores the universal right to higher education (Article 26) through the lens of the Baha'i community in Iran. It tells the story of the Baha'i Institute for Higher Education (BIHE), a grassroots university system established to educate those whose rights have been violated. In 2011, the government launched a coordinated attack against BIHE. The film is intended to spark conversations on university campuses and underscore the importance of defending the right of every human being to higher education.
TO LEARN MORE, please read the Vision Statement.
CO-SPONSORED by the Office of the Dean of Students, Boston University Center for International Relations, Boston University Institute on Culture, Religion, and World Affairs, Department of Anthropology, and the BU "Education Under Fire" Task Force.
Boston University Morse Auditorium
602 Commonwealth Avenue, Boston, MA