Press Release:
Costumes, Adventures, Readings, Wow! Wow! Wubbzy® Highlight Kid's Day At Wizard World Austin Comic Con on Sunday, November 13
Popular Nickelodeon® Character, Kids Adventure Passport Quest, Kids Costume Contest, 'My Favorite Giant' Reading Just a Few of the All-Day Activities at Wizard World Digital Booth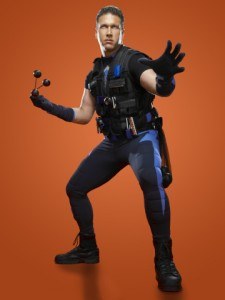 NEW YORK and AUSTIN, Texas, October 31, 2011 – It's an all-day kid's extravaganza as Wizard World Austin Comic Con presents "Kid's Day" on Sunday, November 13, at the Austin Convention Center.  Kid-friendly activities include meeting (and taking pictures with) characters like the lovable "Wow! Wow! Wubbzy!® from the Nickelodeon® series, Austin's own superhero Jarret "The Defuser" Crippen and others, plus free face painting, balloon art, the impossibly cute Kids Costume Contest and special readings of "My Favorite Giant" by author Peter Mayhew, well-known for having portrayed "Chewbacca" in STAR WARS, and the new Border-Pups book "CrashBat" by comic book creator William "Brimstone" Kucmierowski.
Kids can stop by the Wizard World Digital Booth and pick up a free Wizard World Kids Adventure Passport, to complete activities all over Austin Comic Con and get a prize at the end of their journey.  Parents can look for the "Kid-Friendly" button on activities, vendors, booths and sessions throughout the convention floor.
Tweens and teens ages 11-17 can learn how to "Draw a Comic Character" at a one-of-a kind workshop with graphic novel artists and writing team Andy & Veronica Fish.
Crippen, winner of Stan Lee?s "Who Wants to be a Superhero?" competition series on SyFy, will be hosting Kid?s Day and helping youngsters get in on all of the fun.
For more information, parents and kids can visit www.wizardworldkids.com.  The site will be updated closer to the event date as more information becomes available about specific workshops and programs.
Austin Comic Con is the ninth and final stop on Wizard World's 2011 North American tour.  Hours are Friday, November 11, 4 – 7 p.m.; Saturday, November 12, 10 a.m. – 7 p.m.; and Sunday, November 13, 10 a.m. – 5 p.m.  Tickets are available in advance online at http://www.wizardworldcomiccon.com/austin.html at a savings over tickets purchased at the door.  Advance adult single-day tickets are priced at $25 ($35 on site); weekend all-session tickets are $45 ($55 on site), and tickets are free for children age 10 and under when accompanied by a paid adult (limit two children per adult).  VIP packages with special entry and exclusive items are also available on a limited basis.
Austin Comic Con brings together thousands of fans of all ages and dozens of celebrities and industry professionals to celebrate the best in pop-fi, pop culture, movies, graphic novels, comics, toys, video gaming, television, sci-fi, gaming, original art, collectibles, contests and more.  Some of the top celebrity guests at Austin Comic Con include Hayden Panettiere, Adam Baldwin, James Marsters, Juliet Landau, Charisma Carpenter and four of the five original kids from the classic movie WILLY WONKA  & THE CHOCOLATE FACTORY.
About Wizard World:
Wizard World produces Comic Cons and pop culture conventions across North America that celebrate graphic novels, comic books, movies, TV shows, gaming, technology, toys and social networking. The events often feature celebrities from movies and TV, artists and writers, and events such as premieres, gaming tournaments, panels, and costume contests. Wizard World also produces Wizard World Digital, an online publication covering new and upcoming products and talents in the pop culture world, and is distributed on a weekly basis to online and iPad users worldwide.
The full event schedule can be found at www.wizardworld.com.
***** SAVE THE 2011/12 DATES *****
November 11-13 – Austin Comic Con
January 28-29, 2012 – New Orleans Comic Con
April 14-15, 2012 – Toronto Comic Con
June 1-3, 2012 – Philadelphia Comic Con
August 9-12, 2012 – Chicago Comic Con
Fall 2012 – Mid-Ohio Comic Con
TBD, 2012 – Big Apple Comic Con