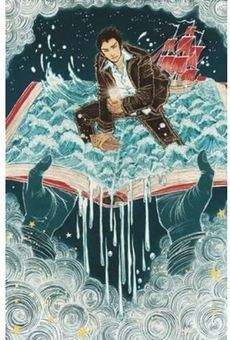 Mike Carey signs at the Forbidden Planet Megastore, 179 Shaftesbury Avenue, London, WC2H 8JR, on Wednesday 6th December 6– 7pm.
Tom Taylor's father created the Tommy Taylor fantasy series, boy-wizard novels with popularity on par with Harry Potter. The problem: Dad modeled the fictional epic so closely to Tom's real life that fans are constantly comparing him to his counterpart. In Volume 4, after the shocking return of Tommy's father, the mysterious Cabal audition a new assassin and Tom seeks out the source. The source of what? He's not really sure, but it looks like a whale, and apparently it can be found in the Nantucket farmhouse where Moby Dick was written. What he finds is a path into a whole different ocean, with more trouble (and more whales) than he could possibly imagine.
Mike Carey's work in has encompassed everything from a biographical comic of Ozzy Osbourne to the astounding and Eisner Award-nominated Lucifer. The list of credits and titles to his name is as sparkling as it is long – and the publication of his Felix Castor series of novels have proved that he can move format without losing his insight, skill or passion. Mike has a first-class degree in English from Oxford and pre-dated his illustrious comics career with 15 years as a teacher.
Forbidden Planet is the largest store of its kind in the world. Some of the biggest names in Sci-Fi, Fantasy, Comics and Cult Entertainment have come to our London Megastore for signing events, including: Gaiman, Terry Pratchett, Terry Gilliam, Simon Pegg, William Gibson, Mark Millar, Guillermo Del Toro, Brian Froud and Stephen King.