Press Release:
WonderCon Announces First Slate of Special Guests
Popular Comics Convention Relocates to Anaheim, California for 2012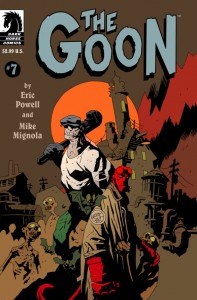 ANAHEIM, Calif., Oct. 27, 2011 — WonderCon, part of the Comic-Con International (CCI) family of nonprofit comics conventions, today announced its first group of special guests. Sergio Aragones (cartoonist, Groo, MAD, Sergio Aragones Funnies), Matt Fraction (writer, Invincible Iron Man, Casanova, Fear Itself, Mighty Thor), Mike Mignola (writer/artist/creator, Hellboy, B.P.R.D.), and J. Michael Straczynski (writer, Superman: Earth One) are among the 11 newly announced special guests to appear at the 2012 event held in Anaheim, California, March 16-18.
Coming off its most successful year in 2011, WonderCon, traditionally held in San Francisco, is relocating to a new venue next year. Due to ongoing renovations at the event's usual location, WonderCon organizers were forced to search for an alternate site for 2012.
"Because of its consistently stellar list of special guests, schedule of programs, and exhibitors WonderCon continues to be one of the most popular comics conventions in the country for fans of comic books, sci-fi, and fantasy," commented David Glanzer, WonderCon spokesperson and director of marketing and public relations for parent company CCI. "We are confident the move to Anaheim will bring the same level of excitement, if not more enthusiasm, for one of the biggest and best genre-related shows in the country."
Originally considered a regional show for Northern California, in recent years WonderCon has so closely resembled its sister show in San Diego in terms of guests and programming that it has become a full-fledged national show attracting attendees and media from all over the country and across the globe, so much so that this year some are calling it "Anaheim Comic-Con."
Additional guests announced today include Art Adams (artist, Longshot, Monkeyman & O'Brien, Tom Strong, Hulk); Mark Evanier  (comics and TV writer, Blackhawk, The DNAgents, Crossfire the animated Garfield); Michael Golden (artist, The 'Nam, Micronauts, Bucky O'Hare); Steve Niles (writer/creator, 30 Days of Night, Criminal Macabre, Mystery Society); Eric Powell (writer/artist/creator, The Goon); Bob Schreck (editor-in-chief, Legendary Comics); and Fiona Staples (artist, Mystery Society, SAGA).
For a complete and up-to-date list of WonderCon special guests and additional information, visit www.comic-con.org/wc/.
About WonderCon:
WonderCon, one of the country's best comics and popular arts conventions, is part of Comic-Con International (CCI), a nonprofit educational organization dedicated to creating awareness of, and appreciation for, comics and related popular art forms. The organization achieves its mission primarily through the presentation of conventions and events that celebrate the historic and ongoing contribution of comics to art and culture. In addition to WonderCon each spring, CCI organizes San Diego Comic-Con each summer (the world's largest comics convention of its kind) and San Francisco's Alternative Press Expo (APE) each fall. On the web: WonderCon.org,Facebook.com/comiccon, Twitter.com/wondercon.