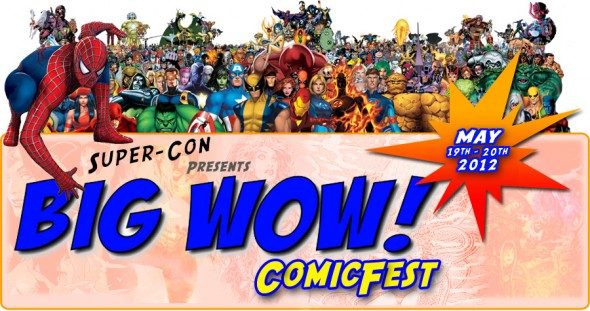 Press Release:
Big Wow! ComicFest Returns to San Jose on May 19th & 20th, 2012, bringing two great days of Comic Book, Art, Anime, Sci-Fi, Fantasy, Gaming and Cosplay FUN! Many of the country's best vendors of all things cool and collectible will tempt your wallets with the perfect gifts for Geek Grads and Dads!!!
Founded in 1979 as "Super-Con", Big Wow! ComicFest is not only Northern California's Longest-Running Comic Book Convention, but is next year's Only Major Comics Event in the San Francisco Bay Area!
As the Original Artist-Friendly Show, we have Fantastic Comic Book Creator Guests spanning all decades and genres! This year we are pleased to welcome as our Featured Guests: Legendary Illustrator Bernie Wrightson (Swamp Thing, Heavy Metal), Vampire Horror Author Steve Niles, creator of 30 Days Of Night, Fan-Favorites Travis Charest (Weapons of the Metabarons), Kevin Nowlan (Superman Vs. Aliens), and more Special Guests including: Dan Brereton (Nocturnals), Greg Capullo (Spawn), Ernie Chan (Conan the Barbarian),  Joe Linsner (Dawn), Rudy Nebres (Incredible Hulk), Alex Nino (Dead Ahead), Stuart Sayger (Shiver In The Dark), Liam Sharp (Gears of War), and many more to be confirmed and added frequently to our website!
Super-Star Cartoonist and Big Wow! Bigwig Frank Cho (Liberty Meadows, 50 Girls 50), will teach a 90-minute Figure Drawing Workshop with a live model, demonstrating fundamentals of technique and style. Any aspiring artist is welcome to sit in the audience and work along with Frank, who will provide priceless tips and critiques! And Inker Extraordinaire Mick Gray (Starman, Promethea) will once again provide a weekend-long inking demonstration as he works on his current comic book assignment at his booth! Don't miss this rare opportunity to see professional comic artists at work!
Once again Big Wow! ComicFest joins Hippy Comix, Inc. in excavating Underground Alley, a special block of tables featuring two generations of Independent, Adult, and Alternative Comix creators! Confirmed Denizens for 2012 include: Dan O'Neill (Odd Bodkins, Air Pirates Funnies), Spain Rodriguez (Zap Comix, Zodiac Mindwarp), Dan Fogel (Snatch Comics Treasury, Underground Comix Price Guide), Steve Wyatt (Comedy of Horrors, Subterranean Tales), and Mark Bode (Cobalt 60, Lizard of Oz), who will create an Exclusive Limited Edition Print benefitting The S. Clay Wilson Special Needs Trust!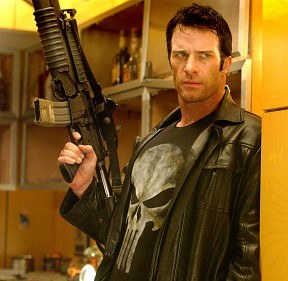 Meet, get autographs, and learn the secrets of Show Biz from our spectacular Celebrity Guests!:
Actor, writer, and producer Thomas Jane, star of "The Punisher" film and the HBO favorite series "Hung", is also the author of the comic book series Bad Planet!
Jane Wiedlin is the sexy and charismatic guitar player for The GoGos! One of the best known Rock/Pop groups to emerge from the 1980's, Jane and the other original members of the group have just finished an astonishing US Tour! Jane is back at work, writing a new story for the 2011 Simpsons Tree House of Horror comic book, and her own series (starring Jane herself) Lady Robotika, drawn by Big Wow! buddy and Special Guest Bill Morrison!
In conjunction with San Francisco's Cartoon Art Museum, Big Wow! ComicFest proudly presents "The Avengers: Earth's Mightiest Art Show!" Featuring Five Decades of Original Art and Memorabilia from the Marvel Comics world-famous group of greatest superheroes and latest movie stars!
And no Big Wow! ComicFest is complete without our:
Benefit Art Auction, Costume/Cosplay Contest (Saturday night directly after the show), Gaming, Card & Role-Playing Games with Sanctioned Tournaments and Live Demonstrations of Magic the Gathering, World of Warcraft, Hero Clix, and more!
Panel Discussions, including: Collecting Original Comic Art for Fun & Profit, The San Francisco Underground Comix Experience, The Art of Self-Publishing, and how to Design and Create Your Own Costumes!
Tickets will be available on the website starting October 1st. And starting in March, we will have tickets available at participating comic book stores around Northern California.
Admission is only:
1 Day Adult $20.00 (at the door)     2 Day Adult $30.00 (at the door)
1 Day Child (8-14) $10.00 (at the door)     2 Day Child  $15.00 (at the door) CHILDREN UNDER 8 ARE FREE!
*Save Off Admission! Buy tickets online, or at many local Comic Book Stores!
FOR MORE INFORMATION we will always have guest and programming updates for the show at: www.bigwowcomicfest.com