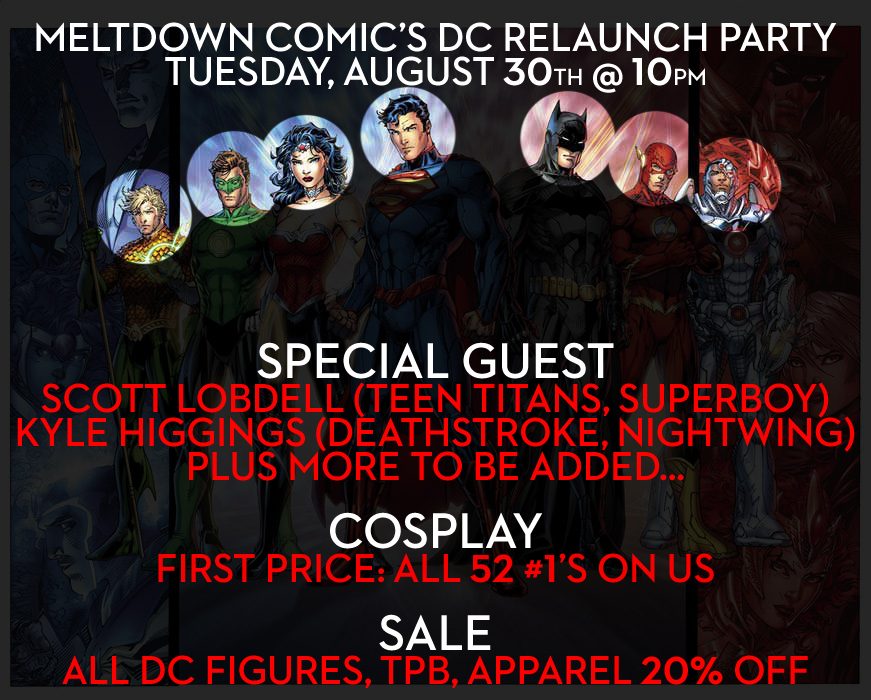 Scott Lobdell and Kyle Higgins appear at Meltdown Comics on August 30th!
Press Release:
Meltdown Comics is proud to announce our Midnight Release party for Flashpoint #5 and Justice League #1, the starting point for the NEW DC Universe.
In addition to getting your copies before anyone else, you'll be treated to awesome comics-related comedy by Tom Franck of Comics and Comics, who will also interview two of the New DCU Architects: Scott Lobdell (Teen Titans, Superboy, Red Hood & The Outsiders) and Kyle Higgins (Nightwing, Deathstroke).
All Attendees are invited to compete in our cosplay contest, with first prize being a complete set of all 52 #1 issues DC is releasing in September!
The fun starts at 11 PM on Tuesday, August 30 (*Flashpoint #5 & Justice League #1 go on sale at 12:01 AM Wednesday August 31st) – don't miss it!
Meltdown Comics
7522 Sunset Blvd, Los Angeles, CA 90046