Press Release:
At last it can be revealed! After months of planning and plotting – here it is. It's the panel schedule for the 2011 Baltimore Comic-Con!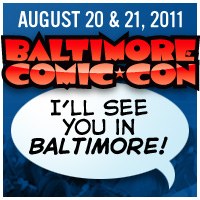 Update:  We've listened to our fans and the costume contest has been rescheduled. It will now be held at 3:00pm on Saturday. Registration forms can be handed in near table #2403 in the main convention hall. With $1,000 up for grabs for the best overall costume and prizes for each of the 10 categories, this is one event all of you cosplayers don't want to miss! For more information and a complete list of categories, visit our website's Costume Contest page.
ROOM 301-303 (Saturday)
11:00-12:00 – Creating Your Comic/Manga from Concept to Publication – Husband and wife creators (and Harvey Award Nominees) Comfort Love and Adam Withers teach you how to create your own comic. The entire process – concepting, scripting, thumbnails, pencils, color, PDF's and CBZ's, printing, distribution, the web, and even maximizing your convention experience will be covered in this seminar. You will walk away with an understanding of the tools you will need to create and sell your own book.
12:00-1:00 – Spotlight on Keith Giffen, J.M. DeMatteis & Kevin Maguire – Giffen, DeMatteis, and Maguire are the fan-favorite creative team behind Defenders, Metal Men, and Justice League. With stories that blend adventure and humor, their books are like no other. Join the men who put the "Bwah" in "Bwah-ha-ha" as they take a look at their work together.
1:00-2:00 – Spotlight on Charles Vess – The work of award-winning artist Charles Vess can be seen in such books as Sandman, Stardust, Rose, Book of Ballads and Sagas, and many others. Join Charles and moderator Terry Moore as they look at his art, his career, and what he's working on now.
2:00 – 3:00 – A Conversation with Jeff Smith & Stan Sakai – Jeff Smith's Bone celebrates its 20th Anniversary this year. Stan Sakai's Usagi Yojimbo will soon reach its 200th issue. Now, these two talented creators sit down to discuss their work; from their beginnings to future plans. Join Jeff & Stan for what is sure to be a lively and fun look at the world of comics.
3:00-4:00 – Spotlight on the Legion of Super-Heroes – Travel with us to the 31st Century as we take a look at DC's futuristic super team, The Legion of Super-Heroes! Join creators Keith Giffen, Mike Grell, Mark Waid, Barry Kitson, and Chris Roberson as they talk about the tales they've told in the Legion's long and storied history. Long Live the Legion!
4:00-5:00 – Spotlight on Shannon Wheeler – From stapling 21,000 mini-comics to shooting a comic book to writing an opera to doing cartoons for The New Yorker – Shannon Wheeler has just gotten started in his career in comics. Recently his collection of rejected New Yorker cartoon I THOUGHT YOU WOULD BE FUNNIER won the Eisner Award for Best Humor Publication and is up for a Harvey this weekend. Join Shannon Wheeler and his trusty sidekick BOOM! Studios Marketing Director Chip Mosher as they look back on Shannon's meteoric rise and fall in comic books. Oh, yeah! Wheeler also created TOO MUCH COFFEE MAN.
ROOM 307 (Saturday)
11:00-12:00 – Visionary Enters the Deadlands – Join Visionary Comics and their all-star roster of creators who launched Deadlands from Image this summer. Join Ron Marz, David Gallaher, Steve Ellis, Jimmy Palmiotti, Lee Moder, and Visionary's own C. Edward Sellner as they reflect on the weird west revival in comics and Deadlands. Look for exclusive announcements on Deadlands: Year 2.
12:00-1:00 – Top Cow: We Create… – Join Top Cow Publisher Filip Sablik along with Top Cow architect Ron Marz and Echoes writer Joshua Hale Fialkov for a colorful & lively look at the last year of Top Cow releases and what the coming year has in store for Artifacts, Pilot Season, Witchblade, The Darkness, Magdalena and much more! Plus every attendee will receive a FREE gift just for attending!
1:00-2:00 – BOOM! 6th Anniversary panel – Join BOOM! Studios Founder and Chief Executive Officer Ross Richie as he pulls the curtain back on BOOM! Studios. From an upstart one-book-a-month publisher debuting in 2005 to 2011's powerhouse comic publisher, BOOM! Studios has had one of the most meteoric rises of any comic publisher in the last twenty years. Find out what makes this company tick as Ross reminisces about the early days at BOOM! and its current success. A one-of-a-kind panel for all those that want to know the real story behind the success of BOOM! Studios.
2:00-3:00 – Marvel Universe – Wondering what's up with the X-Men? Thinking of visiting Spider Island? Curious about the future of Daredevil? Just plain want to know what's up with the Marvel Universe? Then this is the place for you! Join Marvel Architect Jason Aaron, Mark Waid, Barry Kitson, Paul Tobin, and Tom Raney as they explore the wonders of all things Marvel!
3:00-4:00 – Meet Legendary Comics! – Join Legendary Comics' Editor-in-Chief, Bob Schreck and Assistant Editor, Greg Tumbarello, for a lively discussion and digital presentation showcasing the company's exciting upcoming comics releases for 2011 and beyond, including, Frank Miller's HOLY TERROR, Paul Pope's PULPHOPE, and Matt Wagner and Simon Bisley's THE TOWER CHRONICLES. Be prepared with some good questions for the Q&A to follow! If they're really good, you may win a free Legendary T-shirt!
4:00-5:00 – DC: The New 52 – DC shocked comic fandom when they announced they were relaunching the DC Universe with 52 new #1 titles. Wondering what's on the way? Want to know more about those books? Join creators Greg Capullo, Scott Snyder, Jimmy Palmiotti, Cully Hamner, David Finch, and Francesco Francavilla as they take a look at DC's New 52.
ROOM 301-303 (Sunday)
11:00-12:00 – Comics Jukebox: All-Ages Comics in the Digital Age – Digital, web, & downloadable comics are a growing trend in the medium, but where do kids comics stand in this arena? Creators John Gallagher and Steve Conley moderate over a panel of experts, including Dan Parent (Archie), Steve Hamaker (Bone, Fish & Chips), Mike Maihack (Cleopatra in Space!), Rich Faber (Roboy Red!) and Todd Dezago (Perhapanauts, Superhero Squad). Those in attendance will get a special card allowing them to download a FREE Exclusive BUZZBOY story from John Gallagher, and one person will win the opportunity to make a cameo appearance in "Leon, Protector of the Playground," the new all-ages graphic novel by Jamar Nicholas.
Anyone wanting more info can go to the Comic Book Diner All-Ages Pavilion
12:00-1:00 – Spotlight on Ron Frenz – Ron Frenz's art is well known to fans of Spider-Man, Thor, Spider-Girl (whom he co-created), Superman, and many, many others. We shine the spotlight on Ron in this panel that takes a look at his impressive body of work and where he's headed in the future.
1:00-2:00 – Going Digital: Day and Date, and what you need to know – With Marvel announcing their same-day-strategy and DC distributing their entire line starting August 31st to provide you with their acclaimed line of comics the same day digitally as they come out in print, you need to make sure you are prepared. With almost everything you want on demand or deliverable to your door, why should your comics be any different? Marvel and DC, with the help of comiXology have created a digital comics experience that puts the power back in your hands to enjoy your favorite comics on demand. Your comics, when you want them, where you want them.
Come join John D. Roberts, Co-founder of comiXology, who will lead our panel as we explore the new digital horizons together.
2:00-3:00 – CBLDF: Censorship Then & Now – Earlier this year the Comics Code Authority closed its doors forever, ending an era of self-censorship where comics were stigmatized in the general culture. Though the threats that brought about the Comics Code are the stuff of history books, real threats to comics are still present in the courts in the United States and abroad. CBLDF Executive Director Charles Brownstein delivers a gripping history of comics censorship from the 50s to today, and talks about life after the Code.
3:00-4:00 – Avatar Press: News and Q&A – Here's your chance to meet the creative minds behind Avatar Press, the industry's most ground-breaking, risk-taking publisher! Hosted by marketing director, Keith Davidsen, this panel features Mike Wolfer, whose creepy storytelling terrified readers of books like Night of the Living Dead, Lady Death, and War Goddess, and whose visceral illustrations brought to life Garth Ennis' highly anticipated Stitched comic book series. Find out what new terrors this rogue publisher will unleash in the months ahead, and get your questions answered!
ROOM 307-308 (Sunday)
11:00-12:00 – DC Sunday Conversation – All are welcome to join in a relaxed Sunday morning discussion. Share your thoughts, or be enthralled, as the group shares their stories and love for this medium.
12:00-1:00 – Insight Studios – Meet Baltimore's very own legendary creators of some of comic-dom's most explosive stories and art with this amazing retrospective – and new announcements of projects! Focusing on Marc Hempel, Robert Tinnell, and Mark Wheatley, get an insider's perspective on their inner-workings as artists and writers. Moderator, Mike Gold highlights the diversity and originality of these very different creators.
1:00-2:30 – Frank Cho Live Drawing Demonstration – Watch and be amazed as Frank Cho creates a drawing masterpiece right before your eyes. Audience will suggest one character, one action, one setting and Frank Cho will draw it in one hour on stage. The original art created by Frank Cho will be raffled off at the end of the drawing demonstration. Raffle tickets available at Frank Cho's booth.
2:30 – Stan Lee VIP ticket-holders may queue up for the Stan Lee Spotlight.
2:45 – General public will be admitted to the Stan Lee Spotlight.
3:00-4:00 – Stan Lee Spotlight – Face Front, True Believers! This is a panel no comics fan will want to miss as Jimmy Palmiotti sits down with the one and only Stan "The Man" Lee! He is a Founding Father of the Marvel Universe and the face of Marvel Comics to legions of fans. Join the writer, editor, actor, and legend as he discusses his illustrious career. Excelsior!