Press Release:
Stan Lee's POW! Entertainment and 1821 Comics announced today that they will debut Romeo and Juliet: The War at New York Comic Con 2011. Stan Lee will be on hand to showcase the book and sign special limited edition mini posters promoting the title. Pre-release orders are being taken at the 1821 Comic's booth #1458. Romeo and Juliet: The War will be in stores the end of November as a deluxe 10" x 13″ over sized coffee table book available in both hard and soft cover formats. Stan Lee and Terry Dougas created the story with artwork from Skan Srisuwan. The book is written by Max Work.
Romeo and Juliet: The War takes Shakespeare's star-crossed lovers and places them in the futuristic sci-fi/fantasy Empire of Verona, the most powerful territory on Earth. The MONTAGUES, powerful cyborgs made of artificial DNA, and the CAPULETS, genetically enhanced humans known for their speed and agility, worked in tandem to destroy all threats to the city. With no one left to fight, the Montagues and Capulets found themselves a new enemy: each other.
Stan Lee commented, "This is the graphic novel I've always dreamed of doing. Take one of the world's greatest stories, known and loved throughout the globe, place it against the background of a future age, a more violent, science-gone-mad age–embellish it with the most powerful, dazzling, illustrations ever seen and produce it in the largest, most impressive format of all. Romeo and Juliet: The War! It's the crowning achievement in this, the age of the graphic novel."
Not able to attend the show and desperate to get a signed Stan Lee Romeo and Juliet: The War collector's item? Fear not True Believer! Go to www.facebook.com/1821comics and hit the "Like" button for 1821 Comics and you will be entered to win a limited edition Stan Lee signed mini poster of Romeo and Juliet: The War. Want to increase your odds? Go to www.twitter.com/1821comics and follow 1821 Comics. At the end every week, leading up to NYCC, we will draw the names of some lucky fans who will win this signed collector's item!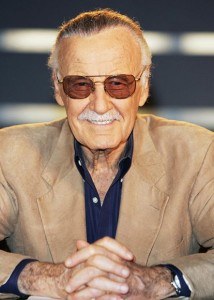 Wholesale ordering will be fulfilled through Diamond Comics Distributors. 1821 Comics will be creating their own iphone/android app for digital editions of releases. Want to stay up to date on the latest release information from 1821 Comics? Join the mailing list by sending a message to info@1821comics.com with newsletter in the subject line.
ABOUT POW! (PURVEYORS OF WONDER) ENTERTAINMENT, INC.
POW! Entertainment,Inc. (OTCQB: POWN), a multi-media and entertainment company, was founded by noted comic book and entertainment figure Stan Lee, together with award-winning producer Gill Champion and intellectual property specialist Arthur Lieberman. POW!'s principals have extensive backgrounds in the entertainment industry encompassing the creation, production and licensing of original intellectual properties, including some of the most successful entertainment franchises of all time. POW! is capitalizing on this combined expertise, specializing in creating and developing both the legacy and digital media components of the entertainment industry. This includes animation and live-action feature films, plus television, DVDs, multi-media, merchandising and related ancillary markets, all of which contribute to global expansion. POW! partners with other individuals and entities of entertainment's top echelon, including studios and networks in the creation, licensing and distribution of new POW! character franchises. www.powentertainment.com.
ABOUT 1821 COMICS
1821 Comics is a new comic book/graphic novel company based in Los Angeles, California and founded by entrepreneurs Paris Kasidokostas Latsis and Terry Dougas. The company is devoted to bringing exciting, eye-popping new titles to the world of comics. Along with its own titles, 1821 is teaming up with some of the top publishers on new cutting-edge books. 1821 Comics will remain a diverse publisher with projects for both men and women, spanning all age groups. The company is highly devoted to story, content and artwork that will move readers from beginning to end.
www.1821comics.com