Press Release:
Texeira "Buffy" Litho Gives Fans Something to Bite Into at Wizard Chicago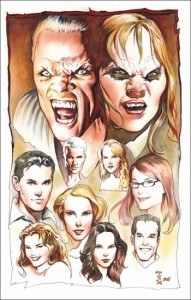 Chicago– Buffy fans are sure to be chomping at the bit for the limited edition Buffy VIP lithograph that will be featured at Wizard World Chicago next weekend, this time, featuring the fine watercolor work of artist Mark Texeira.
Featuring an array of "Buffy" characters, Wizard commissioned Texeira to do this print that will be available to all Buffy VIP's at the convention.
It is limited to 500 copies and measures 11×17.
A great collectible from fine art painter and comic illustrator, Mark Texeira, who has long been associated with a conflagration of characters ranging from Ghost Rider to Black Panther to Wolverine to Sabertooth to Moonknight to Punisher to….it goes on and on…
Not new to media tie-ins, Mark's work has been explored and highlighted on the DVD of the "Ghost Rider" movie, the look of which he influenced. And, Mark was also tapped to do the movie tie-in for "Wolverine Origins," which also seemed to be a natural, considering his long association with that character in all his forms!
You can find Texeira's interiors currently on Ghost Rider, MoonKnight, Wolverine Origins and two upcoming, highly anticipated Punisher mini-series, and right now, "Thor: Heaven and Earth," all showcasing the signature Texeira style.
And here's some more good news: The Buffy Fest limited edition litho will also be available to non-VIP's at Mark's table in artist alley while supplies last. Priced at just $20. each, they are sure to go fast.
"It's wonderful to have Mark involved with the Buffy Fest at Wizard Chicago," said his agent, Renee Witterstaetter. "It's a strong and ever growing group. The piece that Mark created is beautiful as well, and will be a nice collectible for fans of Buffy and collectors of Mark's work as well."
Mark will be in artist alley all days of the show with additional limited prints of various subjects, as well as his new hardcover sketchbook, "Mark Texeira: Nightmares and Daydreams." These books are available for $20 signed or $40 with a sketch. Other commissions are also available.
Wizard World Chicago takes place August 11-14th at the Donald E. Stephens Convention Center in Rosemont, Ill.
For more information on this Buffy exclusive, go to: http://www.wizardworld.com/buchcoconvip.html
For more information on Mark Texeira, his availability and commissions, go to:
www.evainkartitgroup.com