Press Release: On Saturday night, August 20th, the comic book industry, including professionals, retailers, and fans, will gather at the Hyatt Regency Baltimore to honor the 2011 Harvey Award Nominees for 2010 comic work and present the Harveys to their recipients.  This is an exciting evening, highlighted by our host Scott Kurtz and a special appearance by Stan Lee!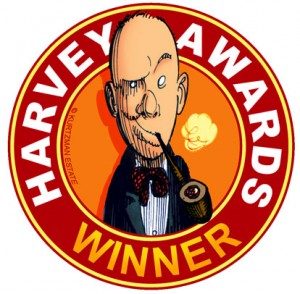 Harvey Awards tickets are on sale NOW!  Tickets to the event, which includes full cocktail hour (cash bar), full service dinner (featuring a Baltimore Crabcake!), awards ceremony, and a gift bag, are now available for $125.  Tickets are available at our website via credit card or Paypal at http://baltimorecomiccon.com/harvey-awards.
The Harvey Awards are one of the comic book industry's oldest and most respected awards. The Harveys recognize outstanding achievements in over 20 categories. They are the only industry awards both nominated by and selected by the full body of comic book professionals.
Additionally, the Hero Initiative will present two awards to outstanding members of the comics community!
The Hero Initiative was established to aid comic creators with a financial safety net when in need of emergency medical aid, financial support for essentials of life, and an avenue back into paying work.  In the years since its inception, the board has created an award to recognize those individuals in the industry that have dedicated their talent over the lifetime of their careers to the comic book community at-large, achieving the status of Hero. Previous recipients include John Romita, Joe Kubert, Nick Cardy, Neal Adams, and George Perez.  Who will be this year's lifetime Hero?
The Dick Giordano Humanitarian of the Year Award will also be presented at the Harvey Awards Banquet. Giordano, who passed away in early 2010, was part of Hero Initiative's Board of Directors. He was also a legendary artist, a guiding force at Charlton Comics and DC Comics for many years, a mentor to his colleagues, and a friend to all who knew him. His legacy epitomizes the caring and commitment Hero Initiative strives to achieve. In his honor, the Dick Giordano Humanitarian of the Year Award will recognize one person in comics each year who has demonstrated the generosity and integrity Dick brought to the charity, and to the comic book community at large.