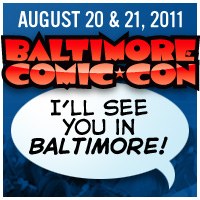 Press Release:
The Baltimore Comic-Con is happy to welcome the collector services of CGC, ComicLink, ComicsPriceGuide.com, The Restoration Lab, Collectibles Insurance Services, and Desert Wind Comics to the line-up of exhibitors at this year's show. The 12th Annual Baltimore Comic-Con will be held August 20-21, 2011 at the Baltimore Convention Center. 
 
Certified Guaranty Company, better known as CGC, is an independent, impartial, third-party comic book grading service. Providing their customers with expert grading and conservation through their slabbing process, CGC has graded more than 1 million comics over the last decade. In addition to the many levels of grading services provided, CGC also provides witness services for authenticating signed collectibles.
 
As one of the largest online comic auction houses, ComicLink has built its reputation on the quality of the services provided to their customers. Focusing on vintage comics and original art, ComicLink also serves as a brokerage house and direct sales platform for collectors to sell their items. In recent years, ComicLink has seen many record-breaking sales for Golden and Silver Age keys.
 
ComicsPriceGuide.com (CPG) is the premiere online price guide. CPG offers a host of information to their subscribers and visitors alike, including: accurate and up-to-date pricing information; coverage of the vintage comic auction market and other industry news; and forums for collectors to meet and share information. In addition, CPG allows subscribers to create an online database to store and track their collection as it continues to grow.
 
For 25 years, The Restoration Lab, under the direction of Susan Cicconi, has restored and helped preserve vintage comic books. Services provided by the Restoration Lab include cleaning, pressing, and restoration of books to improve their aesthetic appearance. All services provided adhere to the strict guideline of paper conservation and Cicconi is recognized throughout the industry as the foremost expert in restoration.
 
Collectibles Insurance Services provides insurance coverage for a wide variety of collectibles, including: artifacts; books; clocks; coins; comic books; dolls; guns & knives; military paraphernalia; quilts; model trains; and much more. 
 
Desert Wind Comics is an independent CGC Signature Series Service provider that secures witnessed autographs for collectors by working closely with such creators as Stan Lee, John Romita Sr., Joe Simon, and Carmine Infantino. Over the last decade, Desert Wind has organized signings all over the United States and Canada with some of the most sough-after creators in the comic industry.
"We're delighted to have all of these companies exhibiting at this year's show," said Marc Nathan, show promoter of the Baltimore Comic-Con. "The fans and collectors are the ones who make comic conventions possible and these vendors provide valuable services to help them preserve and protect their collectibles."