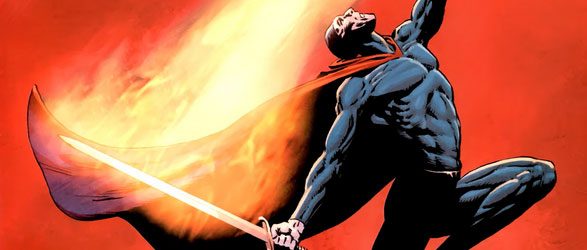 Press Release:
HERO INITIATIVE TRAVELS TO ALBUQUERQUE COMIC EXPO "ACE" WITH GUEST BERNIE WRIGHTSON
June 16, 2011 (Los Angeles, CA)  Hero initiative, the non-profit organization that provides a financial safety net for comic creators in need, is making it's first appearance at Albuquerque Comic Expo, June 24th-26th, at the Albuquerque Convention Center, located in historic downtown Albuquerque at 401 2nd Street NW Albuquerque NM. Joining us at ACE is artist Bernie Wrightson, known for Swamp Thing, and artist of Punisher and Batman: The Cult.  Bernie will be at our booth, #615, all day Saturday and Sunday, right next to Hero Board member Brian Pulido, so make sure you drop and give him a shout while you purchase your goods at the Hero booth!
In addition, Mr. Wrightson has generously agreed to do two sketches for lucky winning fans of Hero's eBay auctions. Go to: http://qurls.com?i=50388 or http://qurls.com?i=50389 to bid on one of these treasures!
To the con, make sure you purchase you tickets at http://abqcomicexpo.com/purchase-tickets/ and click on the "cart" page to make a donation to Hero, the easiest way to help our cause!
SIGNING SCHEDULE AS FOLLOWS, HERO INITIATIVE BOOTH #615:
FRI, 24 JUN (con hours 10-7)
1230-230: Ryan Cody
330-430: Daniel Campos
430-630: Gene Ha
SAT, 25 JUN (con hours 10-7)
ALL DAY: Bernie Wrightson
1030-1230: Andy Kuhn
230-430: James O'Barr
SUN, 26 JUN (con hours 10-6)
ALL DAY: Bernie Wrightson
1130-1230: Gene Ha
1230-130: James O'Barr
130-230: Daniel Campos
About The Hero Initiative
The Hero Initiative is the first-ever federally chartered not-for-profit corporation dedicated strictly to helping comic book creators in need. Hero creates a financial safety net for yesterday's creators who may need emergency medical aid, financial support for essentials of life, and an avenue back into paying work. It's a chance for all of us to give back something to the people who have given us so much enjoyment.
Since its inception, The Hero Initiative has had the good fortune to grant over $400,000 to the comic book veterans who have paved the way for those in the industry today. For more information, visit www.heroinitiative.org or call 626-676-6354