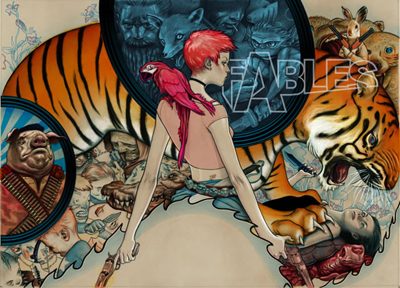 Bill Willingham, Matt Sturges, and Daryl Gregory sign on Friday, June 17th from 3 – 7pm!
Famed writer Bill Willingham, creator of the much-lauded FABLES comic series for Vertigo, is visiting town on a writing retreat and Austin Books & Comics is extremely fortunate to have this exclusive opportunity for FABLES fans to meet Bill in person!
FABLES has won 14 Eisner awards to date, and continues to be considered one of the best comic books ever produced. The FABLES video game is currently in development, while ABC TV is developing a pilot.
Willingham has Austin roots as a former resident, plus had early works published by Lone Star Press and Clockwork Storybook, an Austin writer's collective that he co-founded.
And this just in – Bill's Clockwork Storybook friends Matt Sturges (House of Mystery, Jack of Fables) and Daryl Gregory (Planet of the Apes, Dracula: Company of Monsters) will also be joining us for the signing!
Austin Books & Comics
5002 North Lamar Blvd, Austin, TX 78751