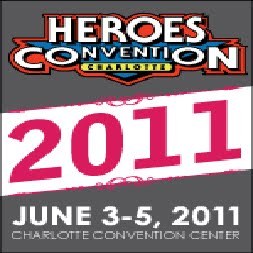 Press Release:
Here it is the week before HeroesCon 2011 and we still have lots of guests to announce! Let's not waste any more time and get right to it!
Farel Dalrymple: creator of Pop Gun War,  Meathaus & Strange Tales II contributor, artist on Omega the Unknown.
Kelly Sue DeConnick: writer of Osborn, Supergirl, CBGB, and Yo Gabba Gabba!
Paul Azaceta: artist of Amazing Spider-man, B.P.R.D.: 1946, and Daredevil.
Derec Donovan: artist of Youngblood, Robin, Connor Hawke.
Will Sliney: Farscape artist.
Georges Jeanty: artist of Buffy the Vampire Slayer, Deadpool, Gambit, Weapon X.
Marsha Cooke: co-writer of Teenage Satan.
John Workman: legendary letterer of titles for just about every major publisher, including DC, Marvel, and Dark Horse.
John Francis Moore: writer of X-Factor, Superboy, and X-Men: 2099.
Rebekah Isaacs: artist of DV8: Gods and Monsters, DMZ, Drafted.
Danny Donovan: writer for Alternative Comics and Platinum Studios.
Ryan Bodenheim: artist of Halcyon, Red Mass for Mars.
Clay and Susan Griffith: co-writers of Allan Quatermain and the Lord of Locusts, Political Power.
Charles Paul Wilson III: artist of Stuff of Legend.
Jackie Lewis: Upcoming Play Ball from Oni
Bob Schreck and Greg Tumbarello: Schreck is the editor-in-chief of Legendary Pictures new line of comics aptly titled Legendary Comics. Tumbarello is the assistant editor for this new comic venture.  Both will be on hand to talk about their new company as well as offering portfolio reviews.
HeroesCon takes place on June 3 – 5, 2011 at the Charlotte Convention Center (501 S. College St, Charlotte, NC 28202). For the full guest list and more details about the convention, please check out their website at the link!