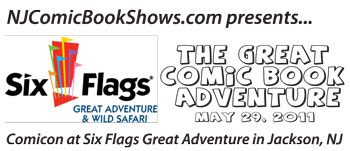 Press Release:
The Great Comic Book Adventure-the first comicon ever held at Six Flags Great Adventure-will be taking place this Sunday, May 29th from 10:30-8:00.
Admission is free with paid admission to the park. Use the following link to get a ticket to both the theme park and safari park for only $28.99.
www.sixflags.com/greatadventure/tickets/index.aspx?promo_code=Comic
They'll have dealers with everything from bargain comics to Golden Age keys.
The costume contest has been canceled (Please do NOT come in costume), The events scheduled so far include:
12:00 "Comic Book School" with writer and publisher Buddy Scalera-Find out how a comic book is created from start to finish.
1:00 Chuck Rozanski-the owner of Mile High Comics and largest comic book dealer in the world will tell the incredible story of how he found the most valuable comic book collection ever… followed by a Q&A.
2:00 A "no minimum bid" auction to benefit The Childrens' Miracle Network. Great deals for a great cause.
3:00 Find out what it's like to be the only blind comic book dealer in the world when we interview Adam Cerniglia.
4:00 What's a "Web Comic"? Danielle O'Brien and Bill Ellis, the creators of "All New Issues" will tell you!
Artists including Neal Adams, Irwin Hasen, Sean Chen, Lee Weeks, Daxiong, Doug Baron and Glenn Whitmore will be available at various times throughout the day for signing and sketching. (Additional events including some of these creators may be added during the course of the day as their comfort levels and customer activity allows.)
For more info contact John Paul at pugprdctns@aol.com or go to www.njcomicbookshows.com or Facebook: NJ Comic Book Shows