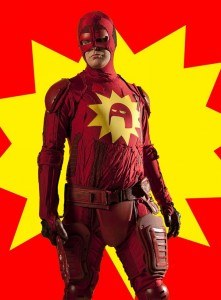 Director James Gunn hosts an advance screening on Monday March 28 at 7:30pm.
Co-Presented with Independent Film Festival Boston
Free Preview Screening!
Free! First come, first seated so get here early!
(2010) dir James Gunn w/Rainn Wilson, Ellen Page, Kevin Bacon, Liv Tyler [96 min]
This hilarious, amazingly twisted dark comedy features Rainn Wilson as Frank, a man shattered by his wife's return to her drug-dealing ex. Donning a (very) homemade costume, Frank turns to a life of crime-fighting to win her back. Applying an absurd realism to masked vigilantes and their sidekicks, SUPER shows us just how messed up the idea of becoming a 'real-life superhero' truly is while simultaneously making us cheer for Frank's alter ego, The Crimson Bolt, and his spunky sidekick Boltie (Page). Do not miss this!!
Visit IFFBoston.org for more great events, breaking news, and announcements about this year's festival!
The Brattle
40 Brattle St, Cambridge, MA 02138