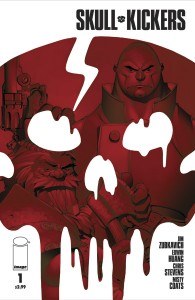 Press Release:
Red-hot Image comics' Skullkickers creators Jim Zubkavich and Edwin Huang are the special guests at this month's Woburn Comic Book Show, and they're looking for artwork from a New England fan to publish in their book!
Zubkavich and Huang will be the guests on Saturday, December 18th, from 10 a.m. to 2 p.m. at the Best Western Hotel in Woburn.  Admission to the show is free!  The show is sponsored by Larry's Wonderful World of Comics in Lowell and features dozens of local comic book dealers and distributors.
Besides signing autographs and chatting it up with fellow comic fans, Zubkavich and Huang will be looking for a piece of pin-up art featuring his characters to spotlight in issue 5 of his ongoing Image comic.
So would-be artists, this is your chance at the big time.  Bring along your artwork for Zubkavich and Huang to pore over, and if your offering kicks skulls, you could see your piece making it into the pages of one of the hottest titles on the comic racks these days!
Skullkickers has been described by some as The Hangover meets Dungeons & Dragons, and has already met with critical praise, selling out its first issue with ease.
Straight from Zubkavich's website, Skullkickers is a fantasy-comedy comic series featuring two mercenaries entangled in a high-class assassination plot, and nothing – not werewolves, skeletons or black magic – will stop them from getting paid.
If you love fantasy, action-comedy, a touch of black-hearted violence and movies like Army of Darkness, then Skullkickers is the book for you!
Directions to the show:
Best Western New Englander
1 RAININ RD, WOBURN, MA right off rt 93 S toward Boston
Take exit 36 to merge onto Montvale Ave toward Woburn
For more information about the show, the art search, or Skullkickers, contact Larry Doherty at Larry's Comics at 978-459-5323
larryscomicsinc@aol.com