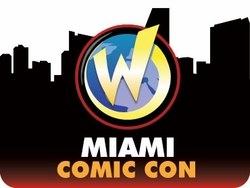 Just as LeBron James did, Wizard World is taking its talent to South Beach.
Gareb Shamus, CEO of Wizard Entertainment, today announced the addition of Wizard World Miami Comic Con to the world's largest pop culture convention series. The event is scheduled for Feb. 26-27, 2011, at the Miami Airport Convention Center (MACC) in Miami.
"The fans wanted a warm weather destination for the winter, so we are presenting Miami Comic Con," said Shamus. "We have the greatest fans in the world, and they are supporting us in every city. We are looking forward to celebrating pop culture in Miami this coming February."
The newly redesigned MACC will feature 172,000 square feet of luxurious, state-of-the-art meeting, social function and exhibition space. The adjacent 334-room Doubletree Hotel is also newly updated, with remodeled guest rooms, and new signature restaurant, lobby and lounge. The Doubletree is situated just three miles south of Miami International Airport (MIA), adjacent the Waterford Blue Lagoon Business District and seven miles from the Miami City Center, Bayside Marketplace and the Port of Miami, as well as just minutes away from Miami's Internationally famous South Beach.
For more information check out Wizard Entertainment's website!