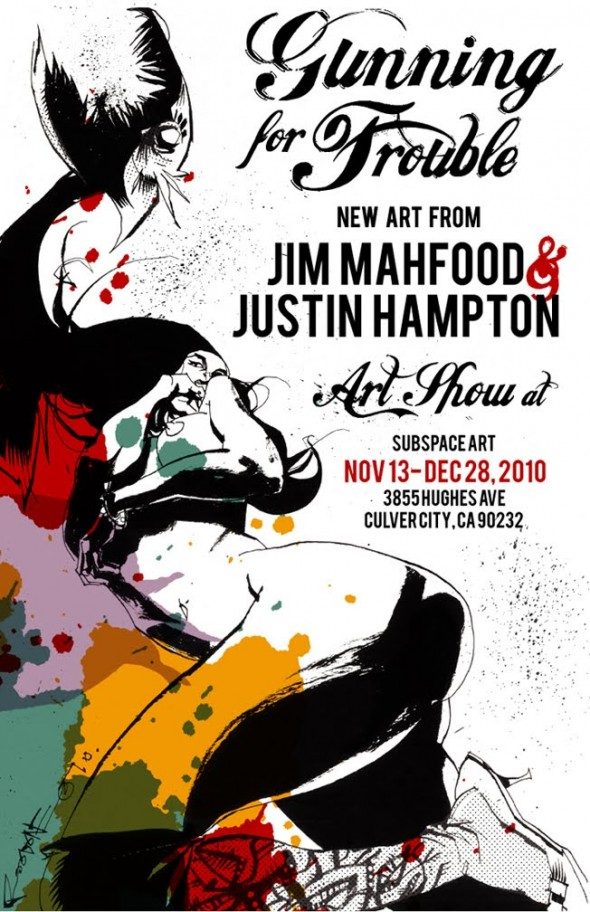 Jim Mahfood and Justin Hampton open an exhibition at SubSpace Art on Saturday, November 13 at 7:00pm.
SubSpace Art is proud to announce an exhibit of works from Justin Hampton and Jim Mahfood – AKA Food One. The exhibit will feature new works from both artists, widely known for their illustrative, poster, graffiti and comic-based art. Their collective images pull from a wide variety of popular and underground elements of music, visual art, comic art, manga and film.
Doors open Saturday November 13th at 7pm with a free live concert from the supergroup, Sweethead, comprised of Troy Van Leeuwen (Queens of the Stone Age) with Norm Block and Eddie Nappi (Mark Lanegan band) and vocalist Serrina Sims. Also included are performances from Lonie Marshall and The Lil' Big Ups plus local L.A. funkateer, DJ Expo, will be serving up an original mix of 1960s – 70's classic R&B and soul.
SubSpace Art
3855 Hughes Avenue, Culver City, CA