Press Release:

Mid-Ohio-Con Names Arthur Suydam as Special Guest for 30th Anniversary Show
Columbus, OH – October 15, 2010 – Mid-Ohio-Con announced that acclaimed artist Arthur Suydam has joined the guest roster for Mid-Ohio-Con 2010. "We are very pleased to add Arthur to the Mid-Ohio-Con 2010 guest list. We've really dialed things up for our 30th anniversary and we're looking forward to an amazing turnout on the weekend of November 6-7, 2010 in Columbus, OH." said James Henry, Managing Director of Mid-Ohio-Con.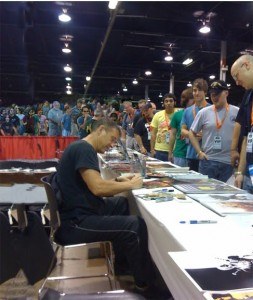 Arthur Suydam rose to super stardom with his work on the smash hit series Marvel Zombies, which broke graphic novel sales records and immediately established the artist as a comic legend. Suydam's popular work has also graced the covers of Deadpool, Marvel Zombies Dead Days, Marvel Zombies 2, Marvel Zombies 3, Wolverine, Fantastic Four, X-Men, Ghost Rider, Thor, Army of Darkness vs. Marvel Zombies, Batman, Batman vs. Predator, Conan the Barbarian, Tarzan, Savage Tales, and House of Secrets.
Suydam has been lauded for his work with awards that include the Spike TV Scream Award (Best Writer, Best Artist, Best Comic of the Year) and the inclusion of his short story Christmas Carol in The Mammoth Book of Horror and Legends for Best Comic Horror Stories of All Time. Recently honored with inclusion in Spectrum 14: The Best in Contemporary Fantastic Art, Suydam was also honored with the prestigious Gold Award in Spectrum 12, in 2006, the San Sebastian Film Festival Lifetime Achievement Award, a Lifetime Achievement Award from the University of Maryland Eastern Shore, and numerous awards across the globe.
As a world class musician Suydam has composed and performed numerous film soundtracks. A list of Suydam's band members reads like a who's-who list of Rock's legends including musicians from Bob Dylan, Paul McCartney's Wings, Steely Dan, Paul Simon Group, Aretha Franklin, The Rolling Stones, Billy Joel and many more. Suydam's current group The Gotham Playboys recorded 3 albums and won the Grammy for The Sessions with Bruce Springsteen.
Now entering its 30th year, Mid-Ohio-Con is one of America's longest-running and most successful comic book and pop culture conventions. Each year, Mid-Ohio-Con brings fans of all ages together with leading comic book writers and artists, film and television creators and stars, as well as publishers and retailers from across the nation. Mid-Ohio-Con 2010 will be held on November 6-7 at the Greater Columbus Convention Center in Columbus, Ohio. Visit us online at www.midohiocon.com.