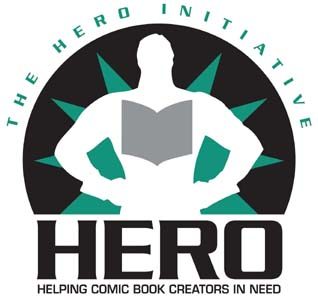 Press Release:
 The Hero Initiative, the charitable organization dedicated to helping veteran comic creators in medical or financial need, is rolling into the Windy City in a BIG way.
 
Hero will be at booth #1421 at Wizard World Chicago Aug. 19-22 at the Rosemont Convention Center in Rosemont, IL with a variety of great activities for attendees.
 
• Hero's exclusive hardcover edition of the Overstreet Comic Book Price Guide #40 will be available at Wizard World Chicago. The limited edition of only 500 copies, with a great recreation of Conan #1's cover by John Romita, Jr., was a near-sellout at San Diego, but we've managed to reserve 30 copies for Chicagoans. They'll be available for sale at $35 per, with a strict limit of ONE per customer. So get to booth #1421 QUICKLY!
 
• Longtime (read: long-suffering) Cubs fan Brian Azzarello will be taking THREE lucky raffle winners to an upcoming Cubs game! Two dollars buys a chance at snaring a box seat alongside one of comics' hottest writers! Swing by the Hero booth to get your two-dollar raffle ticket, and you could find yourself in the Friendly Confines with Azzarello!
 
• Hero's famous Prize Patrol will be rewarding Hero Initiative members who are convention attendees! We'll stop random members we spot wearing Hero Initiative T-shirts (Dawn, Hero H or Hero Hand) and hand out great prizes, including a signed-and-numbered limited-edition Stan's Soapbox: The Collection autographed by BOTH Stan Lee and John Romita (a $100 value). Wear your colors, and you could win BIG!
 
• And of course, no convention is complete without a bountiful bevy of talented writers and artists parked at the Hero booth to sign autographs and do sketches. Check out your faves at these times:
 
Thursday, August 19 (convention hours 5-9 p.m.)
530-630: Tim Seeley
630-730: Brian Azzarello
 
Friday, August 20 (convention hours 12-8 p.m.)
1230-130: Mike McKone
230-430: Mike Grell
430-530: Brian Azzarello
 
Saturday, August 21 (convention hours 10 a.m7 p.m.)
1030-1130: Mike Norton
1230-130: Brian Azzarello
530-630: Mike McKone
 
Sunday, August 22 (convention hours 10 a.m.-5 p.m.)
1230-130: Mike McKone
130-230: Mike Norton
 
About The Hero Initiative 
The Hero Initiative is the first-ever federally chartered not-for-profit corporation dedicated strictly to helping comic book creators in need. Hero creates a financial safety net for yesterday's creators who may need emergency medical aid, financial support for essentials of life, and an avenue back into paying work. It's a chance for all of us to give back something to the people who have given us so much enjoyment.
 
Since its inception, The Hero Initiative has had the good fortune to grant over $400,000 to the comic book veterans who have paved the way for those in the industry today. For more information, visit www.heroinitiative.org or call 626-676-6354.