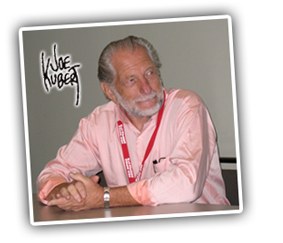 Comic book legend Joe Kubert and sons Adam and Andy Kubert will be guests of the New York Comic Con, which is set for the weekend of October 8-10, 2010 at the Jacob Javits Center in Manhattan.
"These three fellas make for an incredibly comic family! Patriarch, Joe, has worked in comics since the industry began! He's produced stories for countless characters, notably DC's Hawkman and Sgt. Rock and his own Tor and Abraham Stone. He also made an unmatchable incredible contribution to comics – The Joe Kubert School of Cartoon and Graphic Art," said NYCC's Lance Fensterman.
"Adam has worked all over in the comic world, contributing to Wolverine, Incredible Hulk, Spider-Man, and Superman. He helped launch Marvel's Ultimate X-Men and Ultimate Fantastic Four titles as well," he said.
"Andy has illustrated for an extensive list of comics that ranges from X-Men to Captain America to Thor. He was co-winner of the 2005 Quill Award for Best Graphic Novel in collaboration with Neil Gaiman for Marvel 1602," he said.
All three Kuberts will be hanging out at the Kubert School booth during the convention weekend.
For more details and the current guest roster, check the NYCC Guest Page.