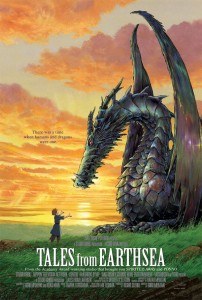 Disney and Emerald City Comicon want to send you and a friend to see Tales From Earthsea!
Advance screening on Monday, August 9th at 7pm Harvard Exit in Seattle.
For your chance to win a mobile pass good for two admissions, text "DRAGON" and your zip code to 43549 (Ex. DRAGON 98119)
NO PHONE CALLS PLEASE!
No purchase necessary. While supplies last. Texting services provided by 43KIX and are free. Standard text message rates from your wireless provider may apply. Check your plan. One entry per cell phone #. Late and/or duplicate entries will not be considered. 30 (thirty) winners will be chosen at random on or about 4pm on Friday, August 6, 2010 and will receive a text good for two admissions. THEATRE IS OVERBOOKED TO ENSURE A FULL HOUSE. A winning text does NOT guarantee a seat. Seating is on a first-come, first-served basis. This film is rated PG-13. Void where prohibited by law.
Tales from Earthsea opens exclusively at Harvard Exit in Seattle on August 13th!