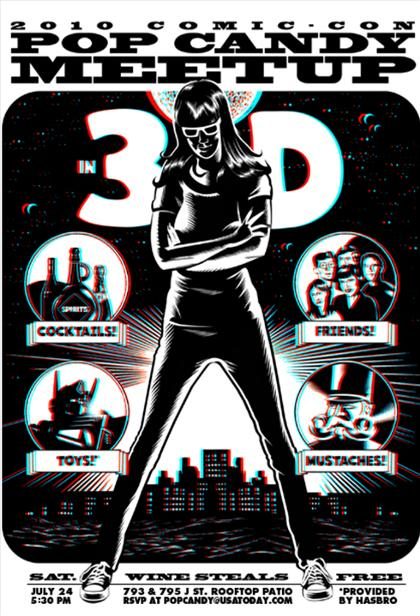 USA Today's Whitney Matheson posted details about her SDCC 2010 party on her blog:
Please join me for Pop Candy's Comic-Con meetup July 24 at 5:30 p.m. The whole shebang will take place at Wine Steals, an awesome (and convenient) wine/cocktail bar located at 793 and 795 J St. in San Diego. We'll be partying on the rooftop patio.
A note about the poster: Yes, it's really in 3-D! You can see it on the blog, but it looks especially awesome when blown up full size. Here's a PDF of the full-size version, in case you'd like to print it. All meetup attendees will receive a pair of Pop Candy 3-D glasses as a special souvenir.
Another bonus: The first 75 people who show up to the party will receive an exclusive Hasbro Comic-Con 2010 collectible. Hasbro's brands include (but are not limited to): Marvel, Transformers, G.I. Joe, Star Wars, My Little Pony and Strawberry Shortcake. Exciting!
The event is free and open to all ages. An RSVP is encouraged but not required at popcandy@usatoday.com. I can't wait to see you there.
See also outlined her panel appearances:
On Saturday afternoon I'll be on the "Comics Across All Media" panel alongside several friends/heroes of mine: Brad Meltzer, Paul Feig, Chip Kidd and Michael Uslan.
Here's the official description:
12:30-1:30 Comics Across all Media
Paul Feig (creator of Freaks and Geeks), Chip Kidd (Shazam!: The Golden Age of the World's Mightiest Mortal), Whitney Matheson (USA TODAY's Pop Candy blog), Brad Meltzer (The Inner Circle), and Michael E. Uslan (The Dark Knight) are five superstars who make headlines in television, the graphic arts, journalism, novels and film. But they all have comics in common. As they reunite for another visit, join them for a discussion of all things nerd. It'll be like a 21st century Breakfast Club — but with even better references. Moderated by audiobook star Scott Brick (The Chronicles of Thomas Covenant). Room 24ABC
Tip: We've done this panel before, and it was really popular, so you might want to line up early.
I'll also be moderating a panel Thursday afternoon with the awesome team at Radical Axis Studios! Here's that description:
2:30-3:30 A Decade of Aqua Teen Hunger Force, Squidbillies and More: The Animated Insanity of Radical Axis Studios
The team from Radical Axis — animators, artists, and amateur magicians — celebrate the studio's 10th Anniversary with a look back at its body of work that includes Aqua Teen Hunger Force, Squidbillies, and other cartoon insanity. Scott Fry (CEO), Craig Hartin (VP of production) and Todd Redner (animation director) are joined by friend/collaborator Matt Maiellaro (co-creator, Aqua Teen Hunger Force) for a no-holds-barred Q&A with USA TODAY's Whitney Matheson. Room 6A