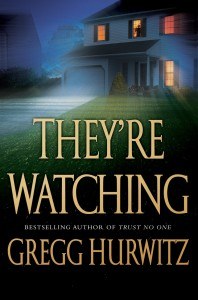 Gregg Hurwitz returns to Diesel Bookstore for a Book Release Party for his new novel, They're Watching, on Thursday, July 8 at 7pm. Gregg Hurwitz is the critically acclaimed, internationally bestselling author of The Tower, Minutes to Burn, Do No Harm, The Kill Clause, The Program, Troubleshooter, Last Shot, The Crime Writer, and Trust No One. His books have been nominated for numerous awards, shortlisted for best novel of the year by International Thriller Writers, nominated for CWA's Ian Fleming Steel Dagger, chosen as feature selections for all four major literary book clubs, honored as Book Sense Picks, and translated into seventeen languages.
Currently a consulting producer on ABC's "V", he has written screenplays for Jerry Bruckheimer Films, Paramount Studios, MGM, and ESPN, developed TV series for Warner Bros. and Lakeshore, written Wolverine, Moon Knight, Punisher, and Foolkiller for Marvel, and published numerous academic articles on Shakespeare. He has taught fiction writing in the USC English Department, and guest lectured for UCLA, and for Harvard in the United States and around the world. In the course of researching his thrillers, he has sneaked onto demolition ranges with Navy SEALs, swam with sharks in the Galápagos, and gone undercover into mind-control cults.
Hurwitz grew up in the Bay Area. While completing a BA from Harvard ('95) and a master's from Trinity College, Oxford in Shakespearean tragedy ('96), he wrote his first novel. He was the undergraduate scholar-athlete of the year at Harvard for his pole-vaulting exploits and played college soccer in England, where he was a Knox fellow. He now lives in L.A. where he continues to play soccer, frequently injuring himself.
Diesel
225 26th Street, Suite 33, Santa Monica, CA 90402