Shelli Paroline and Stephanie Yue will be in-shop for an all-ages signing on Saturday, June 5!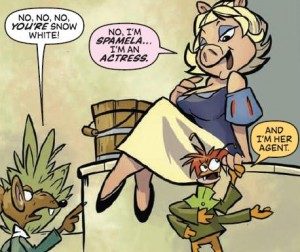 Shelli will be signing copies of Muppet Snow White, published by BOOM Studios, which she draws, as well as other Muppet books where she has contributed covers. The four-issue limited series retells the Snow White story with the familiar Muppet characters and personality.
Shelli is one of the leading forces behind the Boston Comics Roundtable and has published several pieces in their various anthologies.
Artist Stephanie Yue will be signing the new childrens' book Guinea PI-G, Pet Store Private Eye, which she created with author Colleen Venable.
The publisher describes the book thusly: There's a sandwich thief in Mr. Venezi's pet shop, and everyone is a suspect, from the chinchillas to the goldfish. Never fear! The world's fluffiest detective on the case: Sasspants, PI(G). By day, Sasspants is your average book-loving, gizmo-inventing guinea pig. By night she solves pet shop mysteries with the help of her sidekick, Hamisher the hamster. Our furry little heroes will stop at nothing to find the sandwich thief! This is the first book in the Guinea PIG, Pet Shop Private Eye series.
Hub Comics, 19 Bow St., Union Sq., Somerville, MA. 617.718.0987