Press Release:
GREAT GUESTS: Roy Thomas, Joe Sinnott, Jo Chen, David Mack, Jim Balent, Ernie Chan, Georges Jeanty, Scott McDaniel, Billy Tucci, Herb Trimpe, Tom Mandrake, Joe Benitez and 100's More!!!! (plus publishers: Aspen, Top Cow, Broadsword and others)
Check www.pittsburghcomicon.com for a full guest list;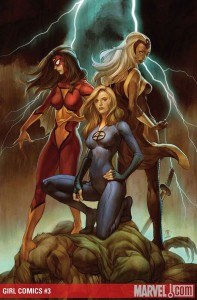 GREAT MEDIA GUESTS: Superman's Margot Kidder, Buffy's Camden Toy, Star Wars' Nalini Krishan & Dermot Crowley and more!!!
GREAT EVENTS: Quick Sketch, Charity Auction, Costume Contest, Casino Night, Legends of Marvel Panel, Belly Dancing and a host of other great comic, movie and genre related panels.
Check www.pittsburghcomicon.com/events.html for a full list of events.
GREAT PROMOTIONS: Pittsburgh Comicon Edition of Aspen's Soulfire #4; Special Make-A-Wish Print by Ed Beard Jr.; The Nerd Herding Contest and more.
Check www.pittsburghcomicon.com/promotion.html for more convention promotions.
KIDZ DAY is SUNDAY and ALL KIDS Twelve and Under Get into the show, FREE!!!
(Bring your kids, your little brother, your neighbors kids, your nieces, your nephews, any and all kids get in FREE!!!)
There are great KIDZ EVENTZ planned, including:
SCI-FI KIDS CRAFTS WITH The Science Fiction Alliance of Pittsburgh (All Day Sunday)
DRAWING THE DISNEY DUCKS w/ DONALD DUCK ARTISTS PATRICK & SHELLY BLOCK (11:00 AM)
BELLY DANCING LESSONS w/ DISNEY'S PRINCESS JASMINE (Noon)
Plus there are great displays like the FULL SIZED LEGO DARTH VADER at the TOY & PLASTIC BRICK MUSEUM BOOTH that you can get your picture taken with and of course enough comics and costumes to impress any kid!!!
There are also great KIDZ GIVEAWAYZ, including:
ASSORTED ALL AGE COMICS from CHRIS YAMBAR
SPIDER-MAN PRINTS from G.W. FISHER
FANTASY ART TRADING CARD PACKS from ED BEARD, JR.
MY PAL MARK COLORING BOOKS and BOOKMARKS from MARK MARIANO
PITTSBURGH COMICON YETZ TRADING CARDS from MIKE BOCIANOWSKI
HANDTOM OF THE OPERA & CXCX CURTAIN PRINTS from ANDREW HARMON
MY LITTLE DEMON COLORING BOOKS from HEATHER KREITER
Plus…. A drawing for a DRAGON, A HAIRFALL and more from PRINCESS JASMINE AND THE GARMENT GODDESS
(some giveaways are limited in quantities so get there early!!!!!)
A full map of kidz day events and giveaways will be handed out at admission!!!
Thank you to everyone involved in KIDZ DAY.
If even one child finds a home in comics, it will have been worth it!!!
In mere days I hope to see all of you at the 2010 Pittsburgh Comicon,
Patrick A. Thomas
Marketing Director of the Pittsburgh Comicon
PITTSBURGH COMICON
APRIL 23, 24, 25, 2010
Monroeville Convention Center