Press Release:
L.A. Comic Book & Sci Fi Con presents Dolph Lundgren (Expendables, Punisher) May 2, 2010
DOLPH LUNDGREN appears at 1:00 P.M. on the LOS ANGELES COMIC BOOK AND SCIENCE FICTION CONVENTION Stage on SUNDAY, MAY 2, 2010 to speak about his latest Movie projects such as COMMAND PERFORMANCE, ICARUS, and this summer's Major Action Movie THE EXPENDABLES reuniting DOLPH with Sylvester Stallone and featuring a cast that includes Jason Statham, Jet Li, and Mickey Rourke.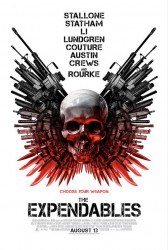 DOLPH LUNDGREN is the real deal at 6'6″ and with a 3rd degree Black Belt in Kyokushin Karate. DOLPH is thought of as being Russian, but he's actually from Stockholm, Sweden. DOLPH's breakthrough role came as the Russian Boxer Ivan Drago in ROCKY IV and he quickly moved to starring roles in MASTERS OF THE UNIVERSE (as He-Man), THE PUNISHER (as Frank Castle and based on the Marvel Comic Book), RED SCORPION, SHOWDOWN IN LITTLE TOKYO, MEN OF WAR, JOHN WOO's BLACKJACK and many others. DOLPH has starred in many Science Fiction Movies such as JOHNNY MNEMONIC, DARK ANGEL, RETROGRADE, UNIVERSAL SOLDIER, and UNIVERSAL SOLDIER: REGENERATION.
DOLPH is Writing and Directing in addition to Starring in his current Movies such as THE DEFENDER, ICARUS (both as Director and Star), THE RUSSIAN SPECIALIST, MISSIONARY MAN, and COMMAND PERFORMANCE (all as Writer, Director, and Star). There will be a Special Screening at 11:00 A.M. of DOLPH LUNGREN's COMMAND PERFORMANCE. At 1:00 P.M. DOLPH will appear on Stage to discuss his Movies. And at 3:30 P.M. there will be a screening of DIRECT ACTION Starring DOLPH LUNDGREN.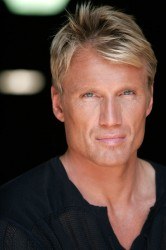 The LOS ANGELES COMIC BOOK AND SCIENCE FICTION CONVENTION has featured many Action Stars as Guest Speakers such as ARNOLD SCHWARZENEGGER, JACKIE CHAN, JET LI, MICHELLE YEOH, VIN DIESEL, CHOW YUN-FAT, CHRISTIAN BALE, CHRISTOPHER LAMBERT, KEANU REEVES, JEAN-CLAUDE VAN DAMME, RUTGER HAUER, ADRIAN PAUL, MARK DACASCOS, and many others, and now DOLPH LUNDGREN appears on the Convention stage in this very rare personal appearance.
The MAY 2, 2010 LOS ANGELES COMIC BOOK AND SCIENCE FICTION CONVENTION will be located at the Shrine Auditorium Expo Center, 700 West 32nd Street, in Los Angeles, across the street from USC College. Show Hours are 10:00 A.M.-5:00 P.M. There's also a large Dealer's Room full of Old and New Comic Books, Toys, Action Figures, DVD's, Trading Cards, Movie Memorabilia, and much more. Admission is a very low $8.00 so collectors have more money to spend on their hobby. For more information check www.comicbookscifi.com