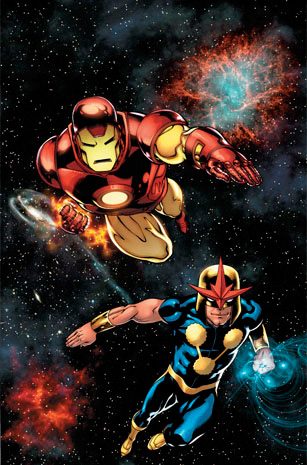 FREE COMIC BOOK DAY FESTIVAL TAKES OVER ROCHESTER – Bigger and better this years Free Comic Book Day Event is going to take place all over Rochester. 
The event will take place at a number of local businesses, each one giving away a unique comic book per family that visits them, as well as filling several larger venues in Rochester.  Of course Jetpack Comics will have dozens of Free Comic Books to choose from!
Special consideration and give-aways will be given to EVERYONE that shows up wearing a Jetpack Comics T-Shirt .  Wear a Jetpack or Ralph pin and you'll be rewarded with even more swag!  Wear a Ralph mask and be ridiculed and rewarded.
The Knights of Columbus will feature all the special guests, creators, comic book & toy vendors as well as food and novelty vendors.  Last year Free Comic Book Day in Rochester attracted nearly 2400 people.  This year, will be bigger and better.
Special Guests include  Marvel Comics top guns, Ed McGuinness and Craig Rousseau!  Ed is considered to be one of the best in his field and is currently the penciller of Marvel Comics HULK comic book.  
Ed also provided the cover to Marvel Comics IRON MAN: Supernova which features Craig Rousseau as the penciller.  Two Marvel comics artists at one huge event.
Also appearing: artist/writer/editor Rich Woodall – Zombie Bomb, Johnny Raygun; writer Ron Fortier – Green Hornet/Pulp writer/Daughter of Dracula; artist Jason Casey; writer/producer John Herman; artist Stephen Bobbett; artist/writer Rich Brunelle – The Fatsquad; artist/writer Josh Belanger – The Fatsquad; artist Dan Drew – The Gay Bride of Frankenstein/Severed Head Comics; artist/writer J.T. Falkenberg – Severed Head Comics; artist/writer Colin Tedford  – Square Dance/Spinning World; artist Shaun O'Neil; artist Joseph Dellagatta; artist Mark Slater – Severed Head Comics; The Trees and Hills Comic Group; & The Barrington Middle School Comic Club.
The Star Wars 501st will be having photo ops on the stage of the Knights of Columbus Hall.   Come as your favorite Jedi or don your Super-Hero garb.  Please show your support by attending the event in costume!  EVERYONE coming to the event is encouraged to dress up.   While visiting with the Star Wars characters be sure to make a donation to them (all proceeds go to the NH Make A Wish Foundation).    This year we add several new interactive groups to the Free Comic Book Day event.
The Dover Children's Museum will be on hand at the KoC hall, with discount coupons and interactive displays.  Rye Airfield will have a demo park behind Jetpack Comics where they will do BMX and skatebaord demos.  Behind the Cafe at Governor's Inn you will find a local Larping Group as well as a mini Ren Faire.
Of course, what makes Free Comic Book Day in Rochester a memorable event is the number of local and small press creators that come to the event.  STHe KoC will feature dozens of comic book artists and creators.  Special Local Guests include The Fatsquad, our lovely and talented Rich Woodall, The Barrington Middle School Comic Book Club, Severed Head Comics Group and more.  WANT TO BE A PART OF THE FUN?  Creator Spaces are $10, while we have them.   Email Ralph now if you want to be a part of it.  Space is limited!
Want to set up at our Free Comic Book Day event and sell your wares?  Tables are just $50 each and are tax deductible (since the Rochester Main Street Association is a Non-Profit and they are the ones in charge of the multi-venues event portion of the day).
Got nothing to do on Free Comic Book Day?  Why not come up to Rochester and give us a hand.  This multi-venue event is going to take all kinds of coordination and assistance.  Volunteers get first shot at the swag as well as tons of lovin from us!  Seriously.  If you've got the time we'd love to have you by our side!