Press Release:
Hero Initiative at San Francisco's Wonder-Con
Party at The Comic Art Museum benefiting Ed Hannigan Sponsored by Comic Outpost
(For Immediate Release): March 29, 2010: Hero Initiative, the non-profit organization that helps comic creators in need, is hoppin' up to San Francisco's WonderCon at the Moscone Center South Easter weekend April 2-4. Original art from a variety of artists will be for sale at the booth, and a huge party benefitting Ed Hannigan will take place the Cartoon Art Museum, sponsored by San Francisco's own Comic Outpost!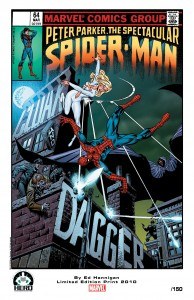 The Cartoon Art Museum, The Hero Initiative and The Comic Outpost proudly present the museum's Annual Wonder-Con Weekend Party, which will be held on Friday, April 2, from 8 p.m. to 11 p.m. A portion of the proceeds from this special event will go to comic book artist Ed Hannigan, whose work is featured in the Cartoon Art Museum's current exhibition Ed Hannigan: Covered.
Tickets for this event will be sold at the Cartoon Art Museum booth on the floor at WonderCon, and at the door at the museum, 655 Mission St., just three blocks from WonderCon. Ed Hannigan, who is suffering from multiple sclerosis, will receive a portion of the proceeds. Tickets are available for $20-$35, with those who donate $35 or more receiving a special gift bag courtesy of the Cartoon Art Museum. A silent auction will be held at the party, and all proceeds from the auction will go directly Hannigan.
Many of the top talents from DC Comics, Marvel Comics and more will be in attendance at the party as special guests of the Cartoon Art Museum and the Hero Initiative. Confirmed guests include Arthur Adams, Amanda Conner, Sergio Aragones, Joyce Chin, Jimmy Palmiotti, Greg Rucka, Gail Simone, Jen Van Meter, and more to be announced. Food and beverages will be provided. Please visit www.cartoonart.org for a list of additional sponsors as they are announced.
Hero Initiative president Jim McLauchlin and Cartoon Art Museum curator Andrew Farago preview the Gallery's Ed Hannigan: Covered exhibit Friday, from 2p.m.-3p.m. at a WonderCon panel. See some of the great art that will be up for auction at the party, and catch the world debut of the Ed Hannigan video, celebrating the works of the great artist. Room 232/234.
Come by Hero's booth, #637, and check out original art available for sale by Tim Sale, Darwyn Cooke and more. Adam Kubert will be at the booth and will draw four, only four sketches the whole weekend, exclusively for Hero! And last but not least, Hero is proud to offer an exclusive, limited edition print of Peter Parker, the Spectacular Spider-Man #64, one of Ed Hannigan's most famous covers. The print is a limited edition of only 150 pieces, and each one will be hand-signed by Ed. Prints are available at $25 each, and are sure to go quickly, go get to the booth fast!
Hero Initiative booth schedule as Follows:
Friday April 2:
1 p.m.-2 p.m.: Gail Simone
2 p.m.-3 p.m.: Ed Hannigan Panel room 233-234
2:30 p.m.-4 p.m: Bill Morrison
Saturday, April 3:
11 a.m.-12noon: Matt Wagner
1 p.m.-2 p.m.: Rev. Dave Johnson
Sunday April 4:
11:30 a.m.-1 p.m.: Bill Morrison
1-2 Rev. Dave Johnson
About The Hero Initiative:
The Hero Initiative is the first-ever federally chartered not-for-profit corporation dedicated strict to helping comic book creators in need. Hero creates a financial safety net for yesterday's creators who may need emergency medical aid, financial support for essentials of life, and an avenue back into paying work. It's a chance for all of us to give back something to the people who have given us so much enjoyment.
Since its inception, The Hero Initiative has had the good fortune to grant over $400,000 to the comic book veterans who have paved the way for those in the industry today. For more information, visit www.heroinitiative.org or call 626-676-6354.