Press Release:
San Jose Super Show Hosts Underground Comix Legends & Three's Company Cast!
When:
Saturday, March 20
Early Bird admission: 9 -11 am, $15
General Admission: 11 am – 4 pm,  $5
Where:
The Santa  Clara County Fairgrounds
344 Tully Rd.
San Jose, CA  95111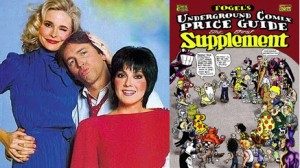 Comic Book and Toy collectors are invited to the San Jose Super Toy, Comic Book & Collectible Show on Saturday, March  20, 2010! Come see 250 tables filled with every variety of Vintage to Modern Collectibles, including Comic Books, Toys, Vinyl Records, Posters, GI Joes, Robots, Disneyana, Sports, TV, Music, and Movie Memorabilia, and lots more! We are Northern California's Largest Toy and Collectible show, growing in size and attendance since 1995.
We are pleased to present our Legends of Underground Comix reunion at the show, uniting two generations of classic creators. Don't miss this chance to meet them & get your collection signed!
Mark Bode               Heavy Metal, co-creator of Cobalt 60, soon to be a major motion picture from Universal Studios
Don Donahue     Original Zap Comix publisher of Robert Crumb
Dan Fogel               Previewing next month's new Fogel's Underground Comix Price Guide Supplement
Dan O'Neill             Air Pirates Funnies, Odd Bodkins, The Log of the Irish Navy
Ted Richards    Air Pirates Funnies, Dopin' Dan, The Forty Year Old Hippie
Spain                   Zap Comix, Che: A Graphic Biography, Trashman
John Thompson   The Kingdom of Heaven is Within You, Kukawy Comics, Yellow Dog
S. Clay Wilson  (Appearance is Health Permitting) Zap Comix, The Checkered Demon, Pork
Media guests include actresses Joyce Dewitt and Priscilla Barnes from the "Three's Company" TV show, who will be signing photos and taking snapshots with attendees for a small fee, in conjunction with "My Name is Earl" actor Jim Decker Promotions. Ms. Dewitt portrayed the perky and sensible roommate Janet Wood from 1977 to 1984, and has appeared in many other TV roles and the film "Airplane 2". Ms. Barnes portrayed nurse roommate Terri Alden from 1981 to 1984, and is also well known for her roles in the films "Mallrats" and "The Devil's Rejects". Ola Ray, Playboy Playmate and Michael Jackson's girlfriend in the "Thriller" music video will also be signing. All guests are subject to cancellation due to professional commitments.
For Show and Dealer Information:
(408) 298-1709
artapartment@yahoo.com
http://timetunnelnews.blogspot.com/