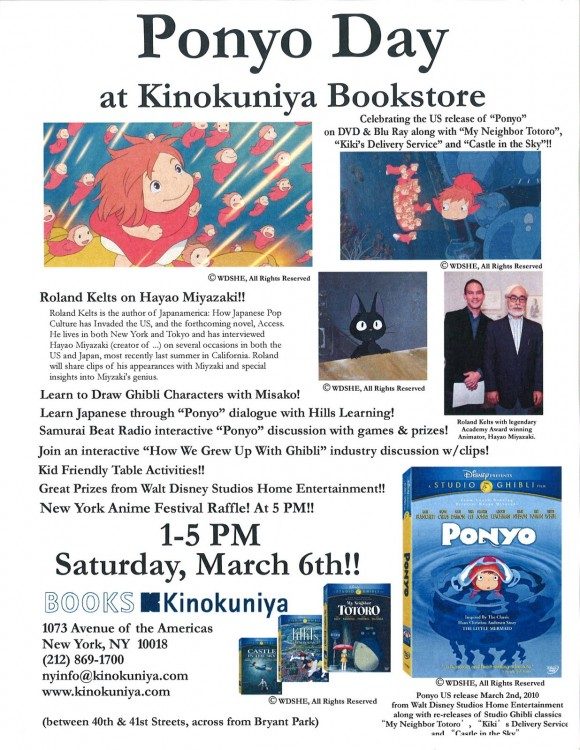 Ponyo Day at Kinokuniya on Saturday!
Ponyo, My Neighbor Totoro, Kiki's Delivery Service, and Castle in The Sky are now available on Blu-ray and DVD, and to celebrate, Kinokuniya Bookstore in NYC is throwing a special Ponyo Day this Saturday, March 6!
Headlining the day will be Mr. Roland Kelts author of Japanamerica: How Japanese Pop Culture has Invaded the US, and the forthcoming novel, Access. Kelts has interviewed Hayao Miyazaki on several occasions, most recently this past summer in California. Kelts will share clips and insights of his meetings with Miyazaki-san.
In addition to Mr. Kelts's appearance, Ponyo Day will include…
Learn to Draw Ghibli Characters with Misako Rocks!
Learn Japanese through Ponyo with Hills Learning
Samurai Beat Radio interactive Ponyo discussion
How We Grew Up With Ghibli panel with anime industry professionals
Kid-friendly activities all day long
The day runs from 1-5 PM and wraps at 5 with a raffle from Walt Disney Studios Home Entertainment and the New York Anime Festival.
Kinokuniya Bookstore is at 1073 Avenue of the Americas in NYC