Dallas ComiCon Kicks Up Great Guest List–Michael Golden Added!
First Appearance in Texas in over 20 years!
Dallas, Tx— Everything IS bigger in Texas!…Or so they say, and considering the line-up at this month's Dallas ComiCon, we sure can't deny that old adage–especially since artist/creator Michael Golden is heading to the Lone Star state for his first appearance there in OVER 20 years.
Scheduled for January 30-31 at the Richardson Civic Center, The Dallas ComiCon is fast becoming a true destination for fans of comics, movies, media and more!
"I am also very happy to be returning to my home state and bringing Michael with me," says Renee Witterstaetter of Eva Ink Publishing. "We're looking forward to showing some new items at the event and meeting some new fans and friends. I should even have a preview copy of Michael's new sketchbook, 'MORE Heroes and Villains.' "
With recent work on "Spiderman," "Hulk," and new pieces coming for "Planet of the Apes," "Mouse Templar," and much more, Michael has long been known for his storytelling work on "Spartan X," "Bucky O'Hare," "The 'Nam," "Micronauts," "G.I. Joe," "Doctor Strange," "Star Wars,"….the list goes on and on! In fact, be looking for announcements about his upcoming storytelling class in the near future–in a city near you.
"I'm designing this course to be relevant for writers, artists or anyone interested in crafting an effective tale," says Golden about the upcoming workshop.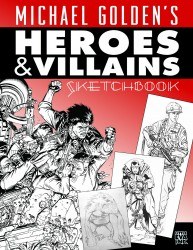 To mark his return to Texas in the meantime, Golden will be available both days of the show to sign, and do limited sketching during convention hours. He'll also be debuting three new art prints added to his portfolio just in time for DCC, as well as showcasing two art books "Excess: The Art of Michael Golden," from Vanguard Productions and "Michael Goldens: Heroes and Villains" sketchbook from Eva Ink Publishing.
Joining Golden at the Dallas ComiCon are talented artists and media guests including: Tim Sale, Adam Hughes, Mark Brooks, Peter Mayhew, Sean Patrick Flanery, Daniel Cudmore, Adam West, Todd Nauck, Pat Broderick, Terry Moore, Jim Mahfood, Mike Huddleston, Tom Feister, Matt Sturges, Brian Denham, John Lucas, Bill Williams, Jaime Mendoza, Tone Rodriquez, Josh Howard, James O'Barr, Cat Staggs, Kerry Gammill, Kez Wilson, Joe Eisma, Brent Peeples, Renee Witterstaetter, Brad W. Foster, Allison Sohn, Dirk Strangely, and many more!
So, be sure to check out Artist Alley, then buy and sell your collectibles in the show's huge exhibitor room loaded with more than 100 tables of comics, posters, cards, movies, t-shirts, and more!
The Richardson Civic Center is located at 411 W. Arapaho Rd. Show hours are Saturday 11-6 and Sunday 12-4.
For more information on the Dallas ComiCon, go to: http://www.scifiexpo.com/DCC/Home.html
For more information on Michael Golden and his work, contact: evaink@aol.com