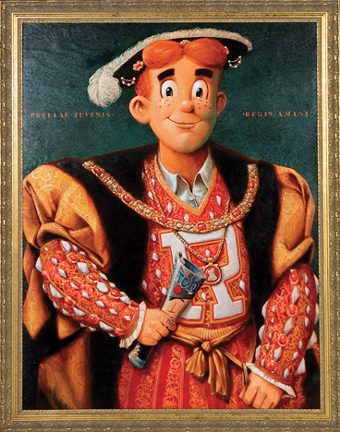 The Museum of Comic and Cartoon Art – MoCCA is pleased to present an evening of Archie Comics with Archie Co-President/Editor-in-Chief Victor Gorelick and Archie writer Arie Kaplan!
Thursday January 21st, 7 PM
Admission: $5 | Free for MoCCA Members
Victor Gorelick (born in Brooklyn) is an American comic book editor and executive. Currently the Editor-in-Chief and Co-President of Archie Comics, the oldest humor comics company in the United States, he has worked for the company for over fifty years in a wide variety of roles.
Victor Gorelick joined Archie Comics as an art assistant, and has served as production coordinator, art director and now as Archie Comic's Editor-in-Chief and Co-President. Mr. Gorelick has unique knowledge of every facet of the editorial process required to create and publish successful comics. He has done it all from writing to coloring, and everything in between. He has highly regarded artistic skills and an eye for meticulous detail. He also has a well honed sense of the wholesome content of Archie Comics that has been the basis for the bond of trust built with readers by Archie Comics down through the years. He has worked closely with numerous companies designing various custom comic books. For example, he has overseen collaborations between Archie Comics and Kraft General Foods, Radio Shack and even the F.B.I.! He is a moving force on the Comic Magazine Association of America's Code Authority Guidelines Committee, a  member of the Board of Advisors of the Joe Kubert School where many of today's comic artists first learned their craft, and he has taught
cartooning as an instructor at the Kingsborough Community College in New York City.
Arie Kaplan is a comedian, MAD Magazine writer, and author of the book From Krakow to Krypton: Jews and Comic Books (JPS). He also wrote the comic book miniseries Speed Racer: Chronicles of the Racer (IDW Publishing), and he's written for MTV, Cartoon Network, and PBS Kids. Other comic book credits include the DC title Cartoon Network Action Pack, the Bongo Comics anthology Simpsons Winter Wingding, the Archie Comics title Archie & Friends, and the Papercutz series Tales From the Crypt. Arie will discuss his work as a comic book writer, nonfiction author, and animation scribe.
Arie Kaplan will be signing copies of his award-winning book From Krakow to Krypton: Jews and Comic Books after the talk.
MoCCA Thursdays are supported, in part, by public funds from the New York City Department of Cultural Affairs, in partnership with the City Council.
On view at MoCCA THE ART OF ARCHIE COMICS
now through Februrary 28, 2009
SPIDER-MAN #50, volume 2 by John Romita, Jr., Scott Hanna and J. Michael Straczynski
now through Februrary 28, 2009
Museum of Comic and Cartoon Art, 594 Broadway, Suite 401, New York, NY 10012
212-254-3511