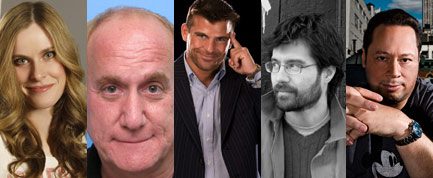 JOE QUESADA ADDED TO NY PLANET HULK EVENT MODERATED BY WWE's MATT STRIKER; G4's BLAIR BUTLER TO MODERATE L.A. EVENT
Earlier Tuesday Newsarama and New York Comic-Con invited websites from around the world to share in the world premiere of the first extended clip from the upcoming Planet Hulk animated feature along with exclusive live coverage of the bi-coastal Planet Hulk events on Thursday evening Jan. 14. Now we have further details on the talent and creators featured at each event, co-sponsored by Newsarama and New York Comic Con.
Following the East Coast exclusive first screening of Lionsgate and Marvel Animation's Planet Hulk, Marvel Editor-in-Chief Joe Quesada will join Greg Pak – the award-winning film director, screenwriter, and fan favorite comic book writer of the original "Planet Hulk" story, along with Marvel Publishing's Hulk editor Mark Paniccia and President of Marvel Animation's Eric Rollman in an interactive panel discussion about the original "Planet Hulk" comic book storyline, its transition to an animated feature, as well as the current Hulk comic book storyline "Fall of the Hulks" and this summer's Hulk event "World War Hulks".
 
The panel will be moderated by WWE wrestler and Friday Night Smackdown color commentator Matt Striker.
 
Later Thursday evening, following the West Coast exclusive first screening of Planet Hulk, Emmy Award-nominated and Eisner Award-winning writer Jeph Loeb (current writer of Marvel's Hulk series), Planet Hulk screenwriter Greg Johnson, actor Rick D. Wasserman (voice of the "Hulk"), Planet Hulk Supervising Director Frank Paur and Supervising Producer Josh Fine will participate in an interactive discussion focusing on the production of the highly-anticipated animated film, scheduled for DVD and Blu-Ray Disc release on February 2, 2010.
 
The panel will be moderated by Blair Butler, host of the "Fresh Ink" comic book segment on G4's Attack of the Show and writer/producer of the show's "Slasher School" series of animated shorts.
 
Click here for more details about the Planet Hulk event. Website editors, webmasters, and owners click here to learn how your site can participate in the premiere of the first extended clip from Planet Hulk, and live coverage of both panels.
The world premiere of the Planet Hulk clip premieres at Newsarama and NYComicCom.com (or your favorite genre website) at 8pm EST/5pm PST Thursday, Jan. 14, followed by live Planet Hulk NYC event coverage. Live coverage of Planet Hulk L.A. begins at 11pm EST/8pm PST that same night.