Hey Marvelites, if you're in the New York area be sure to mark October 28 down on your calendar as a historic day for the future of comics as we host the world premiere of the ASTONISHING X-MEN Motion Comic at Union Square.
The festivities begin at 4 PM ET at Forbidden Planet (www.fpnyc.com) where you'll get a chance to meet and get autographs from comic book greats such as Neal Adams (UNCANNY X-MEN), Chris Claremont (UNCANNY X-MEN, X-MEN FOREVER) and Dan Slott (AMAZING SPIDER-MAN).
Then be sure to march down to Union Square by 6 PM ET to get ready for the world premiere of the ASTONISHING X-MEN Motion Comic and Marvel Costume Contest!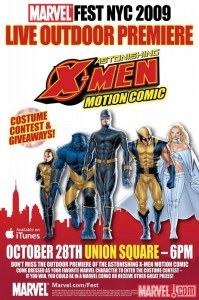 Dress up as your favorite Marvel character (Aunt May costumes are TOTALLY in vogue this year) and be in the running for some great prizes including the chance to be featured in a Marvel comic! All Marvel Costume Contest participants will receive an exclusive Nick Fury action figure (while supplies last) and more goodies!
Remember, originality and faithfulness to the characters count so be sure to crack open some comics for inspiration.
The contest starts at 5:30 PM ET at Union Square so be sure your cape is pressed, your spandex fits just right and your Wolverine claws are good to go! Join us for a great night of fantastic costumes and comics!
If you can't make it to the event be sure to get the ASTONISHING X-MEN Motion Comic on iTunes. It debuts the same day as MarvelFest NYC 2009, Wednesday, October 28!
For the Astonishing X-Men Marvel Motion Comics Costume Contest Official Rules, visit Marvel.com.