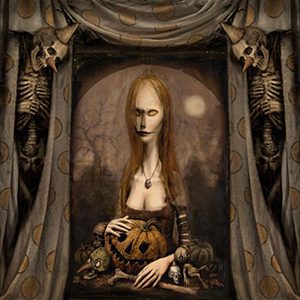 October Shadows (presented by Nucleus and Creature Features)
October 10, 2009 – November 2, 2009
Opening Reception / Oct 10, 7:00PM – 11:00PM
Gallery Nucleus and Creature Features presents: October Shadows. For the past two years, October Shadows has been known as Creature Features' annual homage to the Halloween spirit. The exhibit and book by the same name will feature a prestigious group of artists from all facets of fine art, illustration, comics, film, TV, and animation, conjuring a wealth of imagery that explore the grotesque and the occult.
The exhibition will also give one the opportunity to pre-order the Creature Features book which features many of the artwork shown.
Gallery Girls will be here opening night for a very special costumed figure drawing workshop! Bring drawing materials and join us from 7-10PM in the Atrium upstairs gallery.

Opening night features include:
Free refreshments provided & spooky snacks served.
This is an all ages event.
Admission is free.
Music spun by Special Agent Lotus & DJ Cyrano.
Free costumed figure drawing workshop with Gallery Girls 7-10PM ( Materials not included).
FEATURED ARTISTS:
Adam Rex
Bruce Spaulding Fuller
Bob Lizarraga
Cam De Leon
Carlos Huante
Chet Zar
Chiodo Brothers
Dan Brereton
Gris Grimly
Jordu Schell
Martin Astles
Miles Teves
Mizna Wada
Rick Baker
Robh Ruppel
Travis Louie
William Basso
William Stout
Tony Lombardo
Gallery Nucleus, 210 East Main St, Alhambra CA 91801