ARCHAIA SAILS INTO FIRST ANNUAL LONG BEACH COMIC CON
TWO PANELS, BOOTH SIGNINGS, AN EXCLUSIVE PRINT AND LIVE-ART PARTY HIGHLIGHT THE PUBLISHER'S ATTENDANCE
Los Angeles, CA (September 30, 2009) – In a continuing effort to interact with its fans and earn new ones, Archaia announced today it will be exhibiting at the first annual Long Beach Comic Con 2009, to be held October 2-4 at the Long Beach Convention Center in Long Beach, Calif.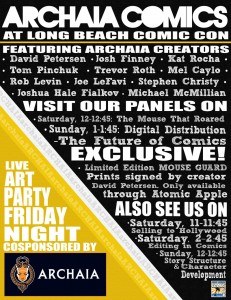 The publisher can be found at Booth #265 where it will offer for sale copies of its latest publications, including Mouse Guard: Winter 1152, Awakening, Some New Kind of Slaughter and Days Missing. Plus, through retailer Atomic Apple (a partnership between Arizona's Atomic Comics chain and L.A.'s Golden Apple), Archaia will also offer a limited edition Mouse Guard print created exclusively for Long beach Comic Con by David Petersen. The print is limited to a run of 75, with only 25 offered each of the three convention days. Petersen is appearing as a special guest of Long Beach Comic Con and will be available to sign the prints at the Atomic Apple booth (#549).
Other Archaia creators who will be appearing throughout the weekend for signings at the Archaia booth include Joshua Hale Fialkov (writer of Tumor), Josh Finney and Kat Rocha (writer and artist of Titanium Rain), Trevor Roth (creator of Days Missing and COO of Roddenberry Productions), Tom Pinchuk (writer of Hybrid Bastards!) and Michael McMillian (writer of the upcoming Lucid).
Additionally, Archaia will present two panels at Long Beach Comic Con:
Saturday, October 3rd, Room B, 12:00-12:45 p.m.
ARCHAIA: THE MOUSE THAT ROARED – With special guest David Petersen's Mouse Guard: Winter 1152 now a bonafide New York Times bestseller, Archaia is an independent publisher on the rise. Come celebrate with creators Joshua Hale Fialkov (Tumor), Josh Finney (Titanium Rain), Joe LeFavi (Fraggle Rock, The Dark Crystal, Labyrinth), Michael McMillian (Lucid), David Petersen (Mouse Guard), Tom Pinchuk (Hybrid Bastards!), Kat Rocha (Titanium Rain), Trevor Roth (Days Missing) and Ryan Schifrin (The Devil's Handshake) as they share exclusive news, showcase fantastic art and shower a few, lucky attendees with free Archaia t-shirts and other great prizes!
Sunday, October 4th, Room B, 1:00-1:45 p.m.
DIGITAL DISTRIBUTION: THE FUTURE OF COMICS, PRESENTED BY ARCHAIA – More and more comic book publishers are turning to digital distribution as a way to get their product into more people's hands. From Amazon's Kindle to the iPhone to the PSP to various Web portals, will digital comics replace its printed counterparts, or is it simply a means to expand readership? And if you're a self-publisher, are digital comics the cheapest route for you to get your project seen by as many people as possible? Join Archaia's Joshua Hale Fialkov, writer of Tumor on the Kindle, Archaia's Stephen Christy and Longbox Digital's Rantz Hosely for a spirited discussion and question-and-answer forum.
Archaia personnel will make appearances at three other panels during the convention. Archaia Director of Development Stephen Christy will sit on the Selling to Hollywood: The Insider's Guide panel (Saturday, 11-11:45 a.m., Room A); Days Missing editor Rob Levin will appear on Editing in Comics (Saturday, 2-2:45 p.m., Room C); and Tumor writer Joshua Hale Fialkov and Mouse Guard creator David Petersen will be on the Story Structure and Character Development panel (Sunday, 12-12:45 p.m., Room A).
Archaia has also teamed up with Atomic Apple and ComicVine.com to host a Live Art party at the convention. The event, which is open to all convention attendees, will take place on Friday evening, Oct. 2nd at 8:30 p.m. in Room 204. Mouse Guard creator David Petersen will join Jim Mahfood (Grrl Scouts, 40oz Comics) and other artists to create live art on wall-sized canvases as a live band performs.

About Archaia
Founded in 2002, Archaia has built an unparalleled reputation for producing meaningful content that perpetually transforms minds. With a slate including such popular Eisner-Award winning titles as Mouse Guard and The Killer, as well as Awakening, Gunnerkrigg Court, Robotika, Killing Pickman, Artesia and the Publisher's latest additions of Titanium Rain, God Machine, Roddenberry Productions' Days Missing, The Jim Henson Company library and Mr. Murder Is Dead and Lucid with Zachary Quinto's production company, Before the Door Pictures, Archaia has become synonymous with quality content. For more information on Archaia or any Archaia titles please visit www.Archaia.com. Archaia can also be found on Facebook (www.facebook.com/archaiacomics), MySpace (www.myspace.com/archaiacomics) and Twitter (www.twitter.com/archaiacomics).