Press Release:
Greetings, fellow comic fans!
We are proud to make a few of several upcoming announcements regarding Virginia's first 2-day show in over 25 years!
First off, we have a slew of swell artists and writers lined up for the show including:
Larry Hama
Chuck Dixon
Chris Claremont
Mike McKone
Billy Tucci
Randy Green
Robert Atkins
and DOZENS more! Additionally, we have some top exhibitors signed up to display including:
CGC (their final scheduled event of 2009!)
The Hero Initiative
the Mike Wieringo Scholarship
Regal Cinemas
Heroes Aren't Hard to Find
Cards Comics and Collectibles
Brett's Comic Pile
and DOZENS more!
We will have many comic panels scheduled all day long, including:
A discussion on Edgar Church by Chuck Rozanski
a GI Joe panel with Larry Hama, Chuck Dixon and Robert Atkins!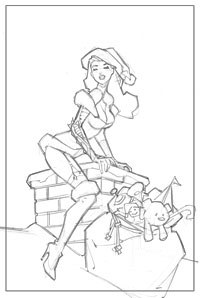 We will have an exclusive Top Cow comic book: Witchblade #132 with a VERY special sketch holiday cover by guest Randy Green!
Also, we are looking for folks wishing to moderate discussion panels, as well as volunteers and CGC witnesses. E-mail me at info@vacomicon.com if you are interested.
Finally, and this is very special, Adam Lucas, the current #1 competitor in DC Comics' ZUDA COMPETITION with his entry "Goldilock" has agreed to come to the show if we help him to win! The voting ends in less than 24 hours. He is in a dead heat for #1, and if you could kindly visit http://www.zudacomics.com/node/1261 and login and vote him in as your favorite, he will come to our show! What a cool deal! YOU can help us get an additional hot young artist to come to the show. Interactive convention-going!
Well…That is about it…oh yeah…there is a FREE sci-fi themed bowling party on Saturday night…and two-day passes start at $9.95, with children, folks with student IDs or Military IDs getting in FREE both days!
You have nothing to lose…visit http://www.VAcomicon.com for more information!
Go ahead and vote for Adam so he will come to the show! Visit our site, and help to make a difference in the first 2-day show in Virginia in over 25 years! Awesome!
Regards,
Brett Carreras
owner Brett's Comic Pile in Richmond, VA
Sponsor of the 2008 and 2009 Harvey Awards
Promoter of the VA Comicon on November 21-22