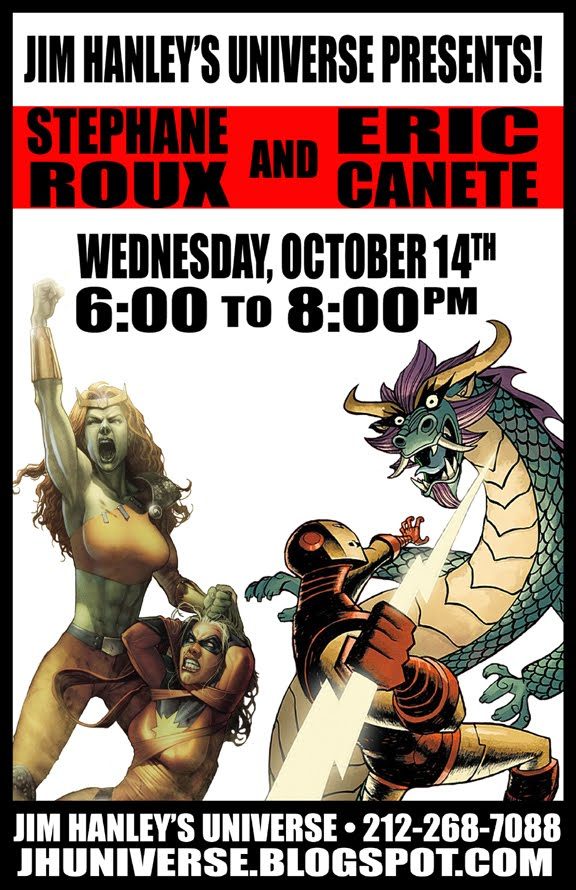 Eric Canete and Stephane Roux sign at Jim Hanley's Universe on Wednesday, October 14 from 6:00pm to 8:00pm, EXCLUSIVELY at our Manhattan Location!
Eric Canete is an animator, designer, and illustrator who's comic works include Iron Man: Enter The Mandarin, Comic Book Tattoo, and The End League! Some of his animation work includes Aeon Flux, Justice League Unlimited, Ben10 and more.
Stephane Roux is a frequent cover artist for Marvel and DC including many covers for Birds of Prey, Countdown, Batman Confidential and most recently Amazing Spider-Man #603! You can see some of his interior work in Witchblade and Action Comics Annual.
So come on down to our Manhattan location for this rare U.S. appearance for Stephane, and a rare New York appearance for Eric – all going down Wednesday, October 14! EXCLUSIVELY at Jim Hanley's Universe – Where Art and Literature Meet!
(and if you miss them there hit 'em up at the Boston Comic Con on Oct. 24-25, 2009)
Jim Hanley's Universe, 4 West 33rd St, New York, NY 10001
(212) 268-7088