Big Apple Comic Con is proud to announce the following iconic sports figures are excited to be part of the celebrity Guest list.
Lawrence Peter "Yogi" Berra is widely regarded as one of the greatest catchers in baseball history. The majority of his career was spent with the New York Yankees. Berra set MLB records in numerous categories, and appeared in fourteen World Series on his way to ten championships. Berra had a long stint as the manager of the New York Mets, including the 1969 World Championship team; before returning to manage the Yankees. He has become one of the most beloved figures in sports and was named to Baseball's Hall of Fame in 1972.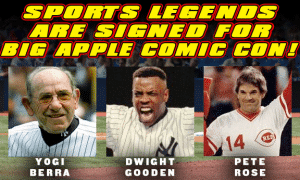 Dwight Gooden was one of the most dominant and feared pitchers in the National League during the 1980s. His penchant for striking out opposing batters quickly earned him the nickname "Dr. K", which was later shortened to "Doc." For his extraordinary achievements, Gooden went on to become the youngest-ever recipient of the Cy Young Award. Gooden and the New York Mets won the World Championship in 1986, defeating the Boston Red Sox. Goodwin went on to sign with their cross-town rivals, The New York Yankees in 1996. Goodwin later retired after his second stint with the Yankees.
Pete Rose is best known for his 19 years with the Cincinnati Reds. Rose is the all-time Major League leader in hits, games played, at-bats and outs. He won three World Series rings, three batting titles, one Most Valuable Player Award, two Gold Gloves, the Rookie of the Year Award, and made 17 All-Star appearances at five different positions; a feat no other player has matched. Outside of Baseball, Rose is well known by wrestling fans for his recurring onscreen feud with the WWE's Kane at the annual WRESTLEMANIA event.
One of the most beloved and iconic wrestlers will also be at Big Apple Comic Con. "The Nature Boy" Ric Flair has become widely regarded as one of the greatest professional wrestlers to ever enter the ring. Flair's wrestling career began in the early 70's, with stints in the AWA and later the NWA. Flair's signature "Wooo!' shout is regularly referenced in sports events even to this day, including Baseball, Basketball and Hockey games. Flair ended his active wrestling career with a long stint back in the WWE, where he faced modern wrestling superstars Triple H, Shawn Michaels, Randy Orton, Kurt Angle, Mick Foley and Chris Jericho.
New York City native and boxing legend Jake LaMotta, known as Raging Bull, rounds out the impressive list of sports icons scheduled to meet fans at Big Apple Comic Con. LaMotta, who compiled a record of 83 wins, 19 losses and four draws with 30 wins by way of knockout, was the first man to beat Sugar Ray Robinson, knocking him down in the first round. Robert De Niro later portrayed him in the film Raging Bill, based on LaMotta's memoir.
Other sports guests include:
MMA
Matt Serra
Andre Machado Gusmao
Dan Miller
Jim Miller
Eddie Alvarez
Daniel Gracie
Gregor Gracie
Igor Gracie
Renzo Gracie
Rolles Gracie
Rachelle Leah
Wrestling
Demolition
Bruno Sammartino
The Iron Sheik
The Million Dollar Man – Ted DiBiase
Lauren Jones
Christy Hemme
Molly Holly
Brimstone
The Smoke
George "The Animal" Steele
Nikolai Volkoff
For more Big Apple Comic-Con guest and programming updates become a fan of BIG APPLE COMIC CON on facebook.com!
Big Apple Comic Con returns October 16-18, 2009 at Pier 94 in New York City.
Save up to 15 percent off the price of tickets by ordering now!
Source: Wizard World