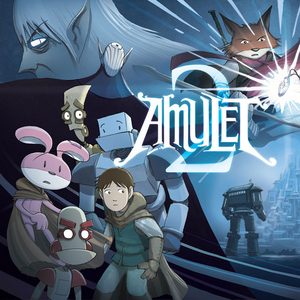 Gallery Nucleus invites you to join us as writer, artist, and Eisner Award Nominee Kazu Kibuishi discusses the process behind the latest release in the Amulet series as well as other current projects.  Hear the artist read from the latest book as well as answer questions from fans and other aspiring artists.  A signing of the new book will follow; Jason Caffoe, Anthony Wu, and Amy Kim Kibuishi will also be signing copies, as they were instrumental in producing the vibrant colors within the book.
Reading & Panel: 1 – 2pm
Q & A: 2 – 2:30pm
Book Signing: 2:30 – 4pm
Upcoming Workshop:
Also, register now for the much anticipated workshop "Storytelling for Comics & Film" instructed by artist Kazu Kibuishi.  Through this seven week course beginning on Sept 15, Kibuishi will share his wealth of knowledge and firsthand experience.  Learn more about taking your ideas and turning them into comics ready for publication.  Each student will complete one 10-page comic by the end of the course.
More about the artist:
Born in Tokyo, Kazu Kibuishi is an American graphic novel author and illustrator.  He is best known for his critically acclaimed Amulet series as well as being the creator and editor of the comic anthology Flight as well as creating the web comic Copper.  The web comic artist and noted critic Scott McCloud has said that some of Kazu Kibuishi's work is so beautifully drawn that "it hurts my hands when I look at it."
Gallery Nucleus, 210 East Main St Alhambra, CA 91801