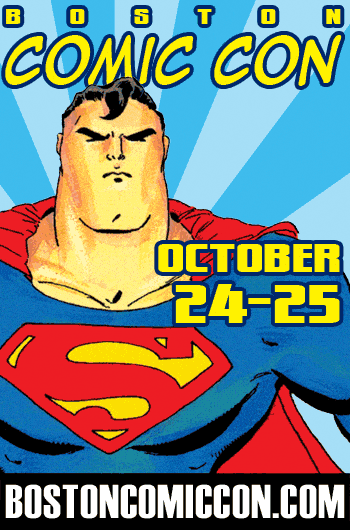 The Boston Comic Con is excited to announce its biggest guest list ever for its upcoming show on October 24-25, 2009. These comic book star creators are coming to New England's largest comic convention to meet their fans and sign autographs.
The Boston Comic Con is very happy to welcome TIM SALE – an Eisner award winning comic book artist well known for his "storytelling" collaboration with writer Jeph Loeb on numerous single issue comics and longer graphic novels featuring BATMAN, SUPERMAN, GRENDEL, DAREDEVIL, CATWOMAN and HULK. His work features dramatic use of light and shadow and he challenged the traditional conceptions of BATMAN and SUPERMAN – and their villainous adversaries – in the groundbreaking works BATMAN: THE LONG HALLOWEEN and SUPERMAN FOR ALL SEASONS. His art has also been featured on the hit NBC Heroes. Tim has earned a wide following for his sometime unique take on superheroes. Tim will be appearing both days, so come on down and say hi!
Living legend HERB TRIMPE comes to Boston Comic Con – In the 1960s, during the period known as the Silver Age of Comics, Trimpe was assigned to what became his signature character, the INCREDIBLE HULK – he went on to draw the character for a virtually unbroken run of over eight years. As a MARVEL COMICS mainstay, Herb drew nearly every starring character along with THE TRANSFORMERS, G.I. JOE and SHOGUN WARRIORS. He's most famously credited with the co-creation of the Marvel comic character "WOLVERINE" who later became a breakout star of the X-MEN. Stop by and meet this comic legend appearing both days at the show.
DAVID MACK is a creative dynamo in the comics industry, unleashing ground breaking work on books such as DAREDEVIL and his creator owned KABUKI -With over 12 years spent professionally in the comics industry and more graphic novels than you can count, Mack has grown a large fan base and gained acclaim from all over the world. In addition to his comic work David Mack has also written the treatment for a "KABUKI" film – BCC welcomes this innovative talent.
KHOI PHAM, one of MARVEL COMICS' finest artists; a superstar who is considered to be one of Marvel's "YOUNG GUNS" From X-FACTOR to the INCREDIBLE HERCULES to his whirlwind run on the Secret Invasion flashback chapters of MIGHTY AVENGERS – it is hard to believe that Khoi has had no formal training. Come meet this artist whose career in the comic field may have come quick, but by no means will be a short one. Welcome to Boston, Khoi!
Boston Comic Con welcomes CLIFF CHIANG to our growing list of talented artists. A Harvard graduate, Cliff was formerly an assistant editor at DC COMICS before he made the leap to freelance illustrator. In his time as an artist, he has drawn such diverse characters as BATMAN, THE SPECTRE, RED SONJA, GRENDEL, SWAMP THING and WONDER WOMAN. Cliff most recently illustrated the GREEN ARROW / BLACK CANARY series for DC COMICS and is currently working on a graphic adaptation of Neil Young's GREENDALE. A fan favorite, he will be appearing both days!
BCC welcomes comic artist and designer GEOF DARROW! Winner of three EISNER awards, his first which he shared with Frank Miller for HARD BOILED, his second in 1996 for BIG GUY & RUSTY THE BOY ROBOT and his most recent (2006) for his self – penned series SHAOLIN COWBOY, featuring Geof's trademark ultra-violence, irony and meticulous level of detail. Darrow was also credited as 'Conceptual Designer' on all three MATRIX movies showcasing his visual style. A true talent not to be missed.
STEPHANE ROUX is a French comic book artist who is known mostly for his cover work for MARVEL, DC and SEMIC comics. He has worked on such titles as WITCHBLADE: BLOODOATH as well as SIBILA and STRANGERS in the SEMIC pocket publications-His most recent works have included cover artist on BIRDS OF PREY, and COUNTDOWN TO FINAL CRISIS for DC comics. Let's show this continent hopper what a real AMERICAN comic show is like!
MIKE McKONE has penciled many titles including JUSTICE LEAGUE OF AMERICA and JUSTICE LEAGUE INTERNATIONAL for DC COMICS and PUNISHER WAR ZONE for MARVEL COMICS. However it was his work of Marvel's EXILES which brought him instant attention, and led him to work on DC's TEEN TITANS and Marvel's FANTASTIC FOUR. His most recent credits include AMAZING SPIDER-MAN and covers for DEADPOOL: SUICIDE KINGS and PUNISHER.
JIM CALAFIORE gained notoriety with Valiant's X-O: MAN-O-WAR and ARMORIES. Following his time with Valiant, Calafiore moved over to MARVEL taking his "metallic" style to IRON MAN. After a long stint on DC's AQUAMAN with writer Peter David, he returned to the "House of Ideas" as the co-penciller on the reality hopping series EXILES. This DC exclusive artist is currently illustrating the darker side of Gotham City and BATMAN'S rouges in the GOTHAM UNDERGROUND mini series.
ERIC CANETE got his professional start working in animation when he was just a 17-year old kid – not even out of high school yet! Eric has done storyboards, backgrounds and designs for shows like JUSTICE LEAGUE, TEEN TITANS, THE BATMAN, and LEGION OF SUPER-HEROES. His full time job is with CARTOON NETWORK on the re-launched BEN 10. Along with his animation work he continues with his first love – COMICS! Check out his IRON MAN: ENTER THE MANDARIN series for Marvel with those funky art deco covers and his run on the END LEAGUE from Dark Horse comics. View his ultra cool web site for more on Eric Canete.
CRAIG ROUSSEAU began his career at DC Comics on such titles as IMPULSE, HARLEY QUINN, BATMAN BEYOND, and GOTHAM ADVENTURES. He is currently working on IRON MAN: ARMOR WARS after a successful run on SPIDER-MAN LOVES MARY JANE written by Terry Moore. Craig is also the co-creator of the indy comic hit THE PERHAPANAUTS.
SCOTT WEGENER is the co-creator of KILLER OF DEMONS and the Eisner Awards-nominated ATOMIC ROBO. He recently worked on PUNISHER WAR JOURNAL and the 70th anniversary issue of HUMAN TORCH for Marvel Comics.
ROB STULL is a fourteen year comic book industry veteran, who has worked for every major publisher. As an inker Rob's comic book projects include: SENSATIONAL SPIDER-MAN, IRON MAN, UNCANNY X-MEN, and WOLVERINE all for Marvel Comics. Other projects include: 52, SUPERGIRL AND THE LEGION OF SUPER HEROES, NIGHTWING, and FIRESTORM for DC Comics and TELLOS for Image Comics.
MARK MCKENNA is the creator of the children's book character Banana-Tail. Mark has been a professional in the comics industry for close to 25 years and has worked on over 8,000 pages. He is currently working on SECRET SIX for DC Comics and for Archie Comics.
NORMAN LEE has been a professional comics creator for close to 15 years. He has worked on every major character in the Marvel Universe. He is currently working on EXILES for Marvel Comics.
BOB ALMOND is the founding father of the Inkwell Awards. He has also been a professional inker for the past 15 years. He has worked most recently for IDW on STAR TREK and on THE PHANTOM.
The Boston Comic Con is in its third year of producing comic book shows and is committed to bringing the biggest and best comic book show to New England. The Boston Comic Con hosts over 13,000 square feet of vendors selling comic books, toys, posters, and other pop culture memorabilia. The event will be held Saturday October 24th and Sunday October 25th at the Back Bay Events Center, 180 Berkeley Street, Boston, MA from 10am to 5pm. Admission is $10 each day. Children 10 and under are free. For more information please go to www.bostoncomiccon.com.