ENTERTAINMENT WEEKLY RETURNS TO COMIC-CON 2009 WITH A STAR-STUDDED SERIES OF PANELS, A PHOTO STUDIO, AND AN EXCLUSIVE CELEBRATION WITH SYFY
James Cameron, Peter Jackson, Sigourney Weaver, Elizabeth Mitchell, and Zoe Saldana To Participate in Entertainment Weekly Panel Series
Entertainment Weekly Publishes 2nd Annual Comic-Con Preview Package, Starring Iron Man 2 on the Cover, and with Exclusive First Looks at the Most Highly Anticipated Movies and TV Shows
NEW YORK (July 16, 2009) – Entertainment Weekly is preparing to invade Comic-Con for the third consecutive year with a fully loaded arsenal: three high-caliber panels, a photo and digital studio, and an exclusive event co-hosted by Syfy. In addition, Entertainment Weekly is publishing its second annual Comic-Con preview package jam-packed with exclusive first looks at some of the most highly anticipated TV shows and movies including Iron Man 2, which will be featured on the cover of this special issue. In the latest installment of Iron Man (the franchise that blasted Robert Downey Jr. back to stardom), the superhero returns to the big screen to battle new villain Mickey Rourke and to size up Scarlett Johansson, and hopes to prove the first time wasn't a fluke. Link to full story on EW.com: http://popwatch.ew.com/popwatch/2009/07/this-weeks-cover-iron-man-2.html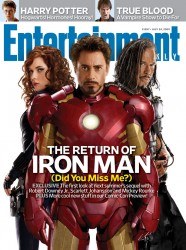 Entertainment Weekly's three Comic-Con panels will bring together some of the best and brightest creators in television and movies to discuss the work that's being done in their respective fields. Footage from each of these panels will be available by July 26 on EW.com. The first of these panels will be "Wonder Women: Female Power Icons in Pop Culture," moderated by Entertainment Weekly editor-at-large Ben Svetkey. It will feature a discussion with Sigourney Weaver (Avatar), Elizabeth Mitchell (Lost, V), and Zoe Saldana (Avatar, Star Trek) about the actresses who have redefined the rules, and the female characters who have shattered the glass ceiling for all women. This panel will take place at 1:15 p.m. on Thursday, July 23.
Next up, Entertainment Weekly executive editor Jeff Giles will moderate an in-depth discussion with iconic filmmakers James Cameron (Avatar) and Peter Jackson (producer of District 9) on the future of film, the art of film narrative and how technology and global culture will alter the art of on-screen storytelling in the next 20 years. This panel will be at 6:30 p.m. on Friday, July 24.
To close out the series, Entertainment Weekly senior writers, hosts of EW.com's Totally Lost, and resident Lost experts Jeffrey "Doc" Jensen and Dan Snierson will prep Lost fans for the final season of the show with their sharp insights and bold theories. There may be a few surprises as well. This panel will take place at 3:30 p.m. on Saturday, July 25.
For the third year in a row, Entertainment Weekly and Syfy will partner to celebrate all things pop culture at Comic-Con 2009 with an exclusive event. Hollywood and the genre's most elite will enjoy music, food, and cocktails while entertainment luminaries enjoy views of downtown San Diego. This event is invitation-only.
In addition to these events, Entertainment Weekly's second annual Comic-Con issue will be packed full of first looks at highly anticipated movies such as Sherlock Holmes, District 9, 2012 and 9, as well as exclusives from upcoming TV shows including Vampire Diaries, Flashforward, V and Stargate Universe. Plus: An exclusive first look at the new Twilight graphic novel. Five thousand complimentary copies of this special issue will be handed out to Comic-Con visitors and fans who stop by the Marvel Studios booth celebrating Iron Man 2. Guests at the Hard Rock Hotel San Diego and the Hotel Solamar will also receive copies of EW's special Comic-Con 2009 issue.
EW.com continues to be THE destination for Comic-Con coverage in 2009 with breaking news and regular updates from the convention floor via our award-winning PopWatch blog (EW.com/PopWatch) and Twitter stream (@EWPopWatch). Plus, we've got exclusive video interviews, first looks, and image galleries from the EW Photo Studio at the Hard Rock Hotel in San Diego. This year, the site will also take viewers inside Entertainment Weekly's own high-profile conversations with exclusive video of Peter Jackson, James Cameron, Sigourney Weaver, Elizabeth Mitchell ("Lost," "V"), and more. Finally, as ABC's "Lost" celebrates its last year at Comic-Con, fan favorite Jeff "Doc" Jensen (@EWDocJensen on Twitter) presents exclusive video interviews with the cast and producers, as well as footage from his highly-anticipated "Totally Lost" panel.