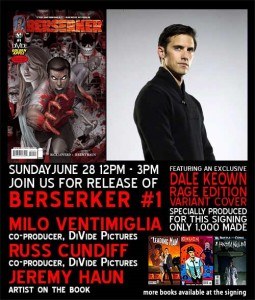 Press Release
MILO VENTIMIGLIA & CO. HIT THE STREETS OF L.A. FOR BACK-TO-BACK BERSERKER #1 LAUNCH PARTIES!
LOS ANGELES, Calif., June 15th 2009– Top Cow Productions, Inc. proudly announced today that fans of Heroes star Milo Ventimiglia will get to meet and greet the actor/producer during the last weekend of June at two separate Los Angeles area comic book stores.  Ventimiglia will be promoting the release of Berserker #1, a comic book published by Top Cow Productions, Inc. in conjunction with Ventimiglia's production company, DiVide Pictures.   
Ventimiglia will be signing copies of Berserker #1 on Saturday June 27, at Golden Apple Comics in Hollywood from 1 to 3 P.M.  Joining Ventimiglia at the store located on 7018 Melrose Avenue will be DiVide Picutures' partner Russ Cundiff and Berserker artist Jeremy Haun (Battle for the Cowl: Arkham, Chuck).   
On Sunday June 28, the Berserker crew proceeds to Collectors Paradise, located at 7131 Winnetka Avenue, where they will be signing from 12 to 2 P.M.  Fans are encouraged to visit the store websites at www.goldenapplecomics.com and www.comicsandcards.net respecitvely to learn more about the signings and Berserker.   
A special "RAGE" edition of Berserker #1 with cover art by Dale Keown (The Darkness, Hulk: The End) exclusively produced by Top Cow Productions, Inc. just for the signings will also be available for purchase. The limited variant edition carries a $10 SRP.
While series writer Rick Loverd will not be present at either signing due to prior obligations, copies of the book will be available pre-signed by Loverd so that fans may have a copy of Berserker #1 signed by the entire creative team.
The brutal new series, which debuts Wednesday June 24, offers a blend of Norse mythology with contemporary characters. The story focuses on an American war veteran and a high school athlete coming to grip with the animalistic and uncontrollable rage living inside them. 
"Berserker is a feel good kill.  This is the book I wish I read as a kid," explains Venitmiglia.
"We are incredibly excited by the way Berserker has come together. On every level, from the concept to Rick's writing to Jeremy's art to Dave McCaig's colors to the involvement from Milo and Russ at DiVide, this book is firing on all cylinders," added Filip Sablik, Top Cow Publisher, "We can't think of a better way to kick off the series than with back to back signings at two of our hometown's best comic stores in Golden Apple and Collector's Experience."
Fans received a glimpse of the new series in a zero issue that debuted at the 2009 New York Comic-Con.  Berserker #0 has been extensively reviewed by various review websites, creating a media buzz after Ventimiglia discussed the comic in an interview aired on a February episode of the TODAY Show on NBC.